Close
UHV School of Nursing to pin first master's degree recipients
KATY - The University of Houston-Victoria School of Nursing will reach another milestone in its history during a pinning ceremony Dec. 12.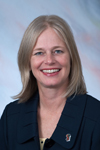 Kathryn Tart
"Pinning ceremonies are a tradition at schools of nursing and represent a rite of passage," Founding Dean Kathryn Tart said. "This ceremony is extra-special because seven students will receive the first Master's of Science in Nursing degrees awarded by UHV."
The event will be at 1:30 p.m. at the Leonard E. Merrell Center, 6301 S. Stadium Lane, and will immediately follow UHV's fall commencement ceremony.
During the graduation ceremony, the expected 38 bachelor's candidates and seven master's candidates will have special pins affixed to their uniforms. The pin signifies the nursing program from which a nurse graduated. Each nursing school has its own unique pin.
"The master's candidates we are pinning on Dec. 12 will go on to become the nurse leaders in the Victoria and Fort Bend communities," Tart said. "A major part of solving the nursing shortage in Texas and the rest of the country is by producing the leaders and educators who will lead the efforts to ensure we have the best quality of healthcare possible."
MSN graduates choose from either nursing education or nursing administration concentrations. The former will go on to teach other nurses. A major cause of the nursing shortage is a lack of qualified educators, Tart noted. The latter group will lead nurses and manage the institutions staffed by them.
Regardless of their concentration, all of the MSN graduates had to acquire and demonstrate skills in advanced nursing practice, research and public service, Tart said.
Among the first seven graduate students are two of the first Johnson Scholars to finish the program. Sabrina Davila and Lance Neill, both of Victoria, were awarded full scholarships thanks to a $130,000 grant the school received in 2008 from the Victoria-based M.G. and Lillie A. Johnson Foundation.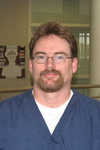 Lance Neill
"I was able to work part time and not worry about working full time and doing all the school work to get a master's degree," Neill said.
The scholarship let him spend more time with his school work and avoid taking out student loans.
Neill added that he was honored to be a part of the first master's class.
"As Dr. Tart always said, in 100 years, we will still be the first class," Neill said. "I keep thinking about that." The pinning tradition can be traced back to when Florence Nightingale placed the Maltese Cross, used by the medical caregivers of the Knights Hospitallers since the Crusades, on the lapels of her nursing school graduates in the late 1800s.
The UHV School of Nursing pin presented to the nurses in the ceremony will stay with the graduates for the rest of their professional careers to let patients know their caregivers are part of a higher order of nurses, Tart said. The pin also serves to remind the nurses of all they went through to reach that honored position in healthcare.
Along with receiving their pins, the graduation candidates and their families will hear a keynote address from Janet Leatherwood, vice president and chief nursing officer of Methodist Sugar Land Hospital in Sugar Land.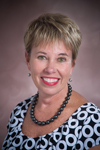 Janet Leatherwood
Prior to joining the hospital in 2001, Leatherwood served as chief nursing officer of Conroe Regional Medical Center in Conroe. She is a member of the Texas Organization of Nursing Executives and has been published in a number of healthcare journals. During her nursing career, she has worked for both the nonprofit and for-profit healthcare sectors, and in 2001, NurseWeek magazine named her a finalist for its Nursing Excellence Regional Award. In 2007, Leatherwood accepted an appointment to the UHV President's Regional Advisory Board, which serves as the university's principal external advisory board. Members help strengthen and advance the university and its programs, and provide counsel for its strategic direction. She now is vice chair of PRAB and also is a member of the University of Houston System at Sugar Land Advisory Board and the UHV School of Nursing Advisory Board.
Leatherwood holds a Bachelor of Science in Nursing from Houston Baptist University in Houston and a Master of Science in Nursing from the University of Texas Medical Branch in Galveston.
The UHV nursing program started in 2006 and was granted school status by the Texas Higher Education Coordinating Board in 2007. In October, the Commission on Collegiate Nursing Education fully accredited the school's undergraduate and graduate programs for the next five years.
For more information about the UHV School of Nursing and the Johnson Scholarship program, contact senior recruitment coordinator Tammy Neeley Whatley at 361-570-4297 or 877-970-4848, ext. 297, or visit www.uhv.edu/nursing.
The University of Houston-Victoria, located in the heart of the Coastal Bend region since 1973 in Victoria, Texas, offers courses leading to more than 80 academic programs in the schools of Arts & Sciences; Business Administration; and Education, Health Professions & Human Development. UHV provides face-to-face classes at its Victoria campus, as well as an instructional site in Katy, Texas, and online classes that students can take from anywhere. UHV supports the American Association of State Colleges and Universities Opportunities for All initiative to increase awareness about state colleges and universities and the important role they have in providing a high-quality and accessible education to an increasingly diverse student population, as well as contributing to regional and state economic development.