Close
UHV student helps parents at local elementary school
University of Houston-Victoria education major Melissa Romanowski is gaining valuable career experience even before she graduates.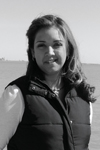 Melissa Romanowski
Romanowski is a parent liaison at O'Connor Elementary School in Victoria. As a liaison, she hosts monthly meetings for parents that cover a wide variety of topics from attendance requirements to children's health insurance. She also introduces parents to community resources like Toys for Tots and organizations that provide school supplies.
"I'm like the bridge between the school and the parents," she said. "I love helping people out. The best part is the feeling I get when I help a parent or student find assistance, but I've had to learn to multitask. Every day is different, so I have to stay organized."
Romanowski said her desire to help others led to her decision to pursue a bachelor's degree in education at UHV. She eventually would like to get her master's degree in counseling, but she'd like to take some time to enjoy teaching first before she becomes a school counselor.
Romanowski feels comfortable with her current job at O'Connor Elementary because she's no stranger to the school. Romanowski, who grew up in Victoria, is a former O'Connor student, worked in the office her senior year of high school, and was a teacher's assistant before she became a parent liaison.
"I want to teach at O'Connor when I finish my bachelor's next December," she said. "It's been amazing working there because I have such a history with the school, and I'm getting a lot of real-world experience."
Being a parent liaison has prepared her to work with a diverse group of students in the classroom, as well as with parents and volunteers, she said.
Romanowski is a member of the UHV chapter of Gamma Beta Phi national honor society and was the UHV Student Senate treasurer during the 2008-2009 school year.
Nelson, an associate pastor at the First Baptist Church of Yoakum, was elected to the board in 2002 by his church's association. Southern Baptist churches in Texas are divided into associations, each with a central office that acts as a hub of information and resources for the churches in its district. Representatives from five of those associations elect officers to serve on the camp's board.
The Texas Baptist Encampment is a nonprofit, Christian family retreat, camp and conference center providing a meeting location for many different groups and individuals. The camp hosts weekend retreats, weeklong summer camps, conferences and mission project opportunities.
Nelson said his responsibilities as a board member are to assist in the direction, planning and vision of the camp, as well as to support, encourage and hire staff.
"The biggest challenges for me on the board are the future needs of the camp, things like extra lodging and a recreation pavilion," Nelson said. "We lost the last pavilion in 2003 during Hurricane Claudette. Future expansion is always exciting, but the finances for these projects come in slowly, so a lot of times it feels like a hurry-up-and-wait situation."
Nelson jumped at the chance to serve on the board because he has attended the camp since sixth grade, but he said he had no idea what it took to keep the camp operating. The reward for his work has been seeing so many people of different ages and backgrounds come together for a common goal.
"I thought serving on the board would be a good way to say 'thank you' to those who worked hard to keep the camp running and growing," he said. "It's an opportunity to work side by side with them and to provide other people with the opportunities I had when I came to camp."
Nelson, who is 32, is pursuing a communications degree at UHV to further his career as an associate pastor. He also is a mentor at Yoakum Junior High School through the Letting Education Achieve Dreams (LEAD) initiative at UHV.
The UHV Outstanding Student is an online feature highlighting the exceptional students who attend the University of Houston-Victoria. To nominate a student, contact UHV Communications Manager Paula Cobler  or call 361-570-4350.
The University of Houston-Victoria, located in the heart of the Coastal Bend region since 1973 in Victoria, Texas, offers courses leading to more than 80 academic programs in the schools of Arts & Sciences; Business Administration; and Education, Health Professions & Human Development. UHV provides face-to-face classes at its Victoria campus, as well as an instructional site in Katy, Texas, and online classes that students can take from anywhere. UHV supports the American Association of State Colleges and Universities Opportunities for All initiative to increase awareness about state colleges and universities and the important role they have in providing a high-quality and accessible education to an increasingly diverse student population, as well as contributing to regional and state economic development.