Close
Great writer's life subject of next ABR presentation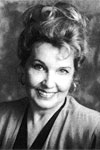 Darlene Unrue
A leading Nazi, five ex-husbands, the Mexican Revolution and the city of Victoria all have one thing in common: They were part of the life of Pulitzer Prize-winning author Katherine Anne Porter.
Porter didn't write as many works as her famous contemporaries like Earnest Hemingway and F. Scott Fitzgerald, and so she didn't receive the fame they did or achieve the credit she deserved, said Darlene Unrue, a Porter biographer. Unrue will lecture at the next installment of the American Book Review Spring Reading Series on Thursday at the University of Houston-Victoria.
The free event will be at noon in the Alcorn Auditorium of University West, 3007 N. Ben Wilson St. Light refreshments will be served.
Porter was a beautiful and intelligent woman who lived an exciting yet troubled life, Unrue said. Her fiction was superb and worthy of study. That's why Unrue, who teaches English at the University of Nevada in Las Vegas, has made Porter the subject of her research for the last 35 years.
Porter spent a few months in Victoria when she was 15, moving to the city from San Antonio. Something during those months made her change her aspirations from wanting to be a singer and actress to a writer.
She also met her first ex-husband at a Christmas dance, Unrue said. The relationship was a bad one and ended in 1915. Between that year and 1920, Porter married and divorced two more times, and nearly died from tuberculosis and influenza in the 1918 epidemic. Sometime around 1920, she decided to leave her home in New York and travel to Mexico to see the ongoing revolution first hand.
After following the revolution for several years, she decided it was time for a change and traveled to Germany in 1931. In a letter to her father, she said she was leaving a troubled land for an even more troubled land. There she met Hermann Goering, head of the Luftwaffe during World War II and a senior Nazi official. After several months, she moved on and eventually settled in Paris, where she lived for five years.
"What lay in the deep core of her experience provided the energy for her fiction and the themes that filled it," Unrue said.
Victoria played a key part in her experiences that would lead her to write a novel, "Ship of Fools," and a collection of short stories that won both the Pulitzer Prize and the National Book Award in 1966.
"Katherine Anne Porter is a giant in the world of words who is often overlooked, and Darlene Unrue is truly the leading authority on this author and her works," said Jeffrey Di Leo, dean of the UHV School of Arts & Sciences and editor/publisher of ABR. "This is a wonderful opportunity for anyone to expand his or her literary horizons."
While in Victoria, the authors attend roundtable discussions with UHV faculty and students, make classroom visits to area schools, give lectures open to the community, and go to receptions hosted by Friends of ABR patrons. Past speakers have included Pulitzer Prize-winning historian David M. Oshinsky, author and Iranian refugee Farnoosh Moshiri, Chicana novelist Ana Castillo and National Book Award-winning poet Mark Doty.
Other authors scheduled to appear this semester are as follows:
Jake Silverstein, March 8 - He was a reporter at the Big Bend Sentinel in Marfa, Texas, from 1999 to 2000 and a 2002 Fulbright Scholar in Zacatecas, Mexico. Silverstein is a contributing editor to Harper's Magazine, and his essay for that magazine, "Highway Run," about a Mexican road race, won the 2007 PEN/USA Journalism Award. His journalism also has been featured in several anthologies, including the "Best American Travel Writing 2002" and "Submersion Journalism," a 2008 collection of first-person nonfiction. His first book, "Nothing Happened and Then It Did, a Chronicle in Fact and Fiction," will be published by W.W. Norton later this year. He came to work for Texas Monthly in 2006 as a senior editor and was named editor in September of 2008.
 
Curtis White, March 25 - He is a professor of English at Illinois State University. A novelist and essayist, White has written several widely acclaimed books, including "The Middle Mind: Why Americans Don't Think for Themselves," "Memories of My Father Watching TV," "Requiem" and, most recently, "The Barbaric Heart: Faith, Money and the Crisis of Nature." His essays have appeared in Harper's Magazine, Orion, Playboy and The Village Voice.
 
Bret Anthony Johnston, April 22 - He is the author of the internationally acclaimed "Corpus Christi: Stories" and the editor of "Naming the World: And Other Exercises for the Creative Writer." Named a Best Book of the Year by The Independent of London and The Irish Times, "Corpus Christi: Stories" received The Southern Review's Annual Short Fiction Award, the Texas Institute of Letters' Debut Fiction Award, the Christopher Isherwood Prize and the James Michener Fellowship. His work appears in magazines such as The Paris Review, The New York Times Magazine, Esquire, The Oxford American and Tin House, and in anthologies such as "New Stories from the South: The Year's Best" 2003, 2004 and 2005. He is a recipient of the Glasgow Prize for Emerging Writers and a National Endowment for the Arts Literature Fellowship. He has written essays for Slate.com and is a regular contributor to National Public Radio's "All Things Considered." In 2006, the National Book Foundation honored him with a new National Book Award for writers under 35. A skateboarder for almost 20 years, he is the director of creative writing at Harvard University.
For more information about the ABR Spring Reading Series, contact Managing Editor Charles Alcorn at 361-570-4100 or
alcornc@uhv.edu
.
The University of Houston-Victoria, located in the heart of the Coastal Bend region since 1973 in Victoria, Texas, offers courses leading to more than 80 academic programs in the schools of Arts & Sciences; Business Administration; and Education, Health Professions & Human Development. UHV provides face-to-face classes at its Victoria campus, as well as an instructional site in Katy, Texas, and online classes that students can take from anywhere. UHV supports the American Association of State Colleges and Universities Opportunities for All initiative to increase awareness about state colleges and universities and the important role they have in providing a high-quality and accessible education to an increasingly diverse student population, as well as contributing to regional and state economic development.