Close
Author to discuss unique writing style incorporating fact and fiction
"On this site in 1885, nothing happened."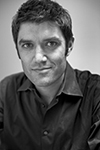 Jake Silverstein
The wording on a prank plaque in front of house in New Orleans made Texas Monthly Editor Jake Silverstein chuckle in 2002 and gave him the inspiration for his soon-to-be-published first book, which he'll be sharing on March 8 at the University of Houston-Victoria.
"This book is an unusual blend of fact and fiction and explores how those two elements can be difficult to separate," Silverstein said. "One of the things I'm most curious about is how the book will be received when it comes out."
Silverstein's talk is part of the UHV/American Book Review Spring Reading Series. His reading will begin at noon in the Alcorn Auditorium of UHV University West, 3007 N. Ben Wilson St. The public is invited to the free presentation, and light refreshments will be served.
"Nothing Happened and Then It Did, a Chronicle in Fact and Fiction" by Silverstein will be published April 19 by W.W. Norton & Co. Inc. It chronicles the journey of a young journalist traveling through the American Southwest and Mexico to track down his first big magazine story.
The story has some parallels with Silverstein's life. He was a reporter at the Big Bend Sentinel, the weekly newspaper in Marfa, Texas, for a year in the late 1990s. "Highway Run," an essay he wrote for Harper's Magazine, where he is now a contributing editor, won the 2007 PEN/USA Journalism Award.
Silverstein's journalism also has been featured in several anthologies, including the "Best American Travel Writing 2001," and "Submersion Journalism," a 2008 collection of first-person nonfiction. He came to work at Texas monthly in 2006 as a senior editor and was named editor of the 300,000-circulation magazine in September of 2008.
During Silverstein's talk at UHV, he will discuss why he took the unique approach of blending fiction and nonfiction for his new book and his writing process.
"I find writing generally hard but very satisfying," he said. "It can be tedious, but I'm also very aware of the fact that anything can happen at any time to the characters I'm writing about."
Jeffrey Di Leo, dean of the UHV School of Arts & Sciences, and editor/publisher of ABR, said Silverstein will have much to offer those who attend his presentation.
"We are honored that Mr. Silverstein is taking time out of his busy schedule at Texas Monthly to come to Victoria to discuss his writing," he said. "Those who attend will get a sneak preview of his highly anticipated book."
While in Victoria for the Reading Series, authors also attend roundtable discussions with UHV faculty and students, make classroom visits to area schools, give lectures that are open to the community, and go to receptions hosted by Friends of ABR patrons. Past speakers have included Pulitzer Prize-winning historian David M. Oshinsky, author and Iranian refugee Farnoosh Moshiri, and Mexican American author Dagoberto Gilb, who has since joined UHV as a writer-in-residence and professor of Latino studies.
ABR is a nonprofit, internationally distributed literary journal that is published six times a year. It began in 1977, moved to UHV in 2007 and has a circulation of about 8,000. The journal specializes in reviews of works published by small presses.
Other authors scheduled to appear this semester are as follows:
Curtis White, March 25 - White is a professor of English at Illinois State University. A novelist and essayist, White has written several widely acclaimed books, including "The Middle Mind: Why Americans Don't Think for Themselves," "Memories of My Father Watching TV," "Requiem" and, most recently, "The Barbaric Heart: Faith, Money and the Crisis of Nature." His essays have appeared in Harper's Magazine, Orion, Playboy and The Village Voice.

Bret Anthony Johnston, April 22 - Johnston is the author of the internationally acclaimed "Corpus Christi: Stories" and the editor of "Naming the World: And Other Exercises for the Creative Writer." Named a Best Book of the Year by The Independent of London and The Irish Times, "Corpus Christi: Stories" received The Southern Review's Annual Short Fiction Award, the Texas Institute of Letters' Debut Fiction Award, the Christopher Isherwood Prize and the James Michener Fellowship. His work appears in magazines such as The Paris Review, The New York Times Magazine, Esquire, The Oxford American and Tin House, and in anthologies such as "New Stories from the South: The Year's Best" 2003, 2004 and 2005. He is a recipient of the Glasgow Prize for Emerging Writers and a National Endowment for the Arts Literature Fellowship. He has written essays for Slate.com and is a regular contributor to National Public Radio's "All Things Considered." In 2006, the National Book Foundation honored him with a new National Book Award for writers under 35. A skateboarder for almost 20 years, he is the director of creative writing at Harvard University.
For more information about the UHV/ABR Reading Series, call ABR Managing Editor Charles Alcorn at 361-570-4100 or go to www.americanbookreview.org.
The University of Houston-Victoria, located in the heart of the Coastal Bend region since 1973 in Victoria, Texas, offers courses leading to more than 80 academic programs in the schools of Arts & Sciences; Business Administration; and Education, Health Professions & Human Development. UHV provides face-to-face classes at its Victoria campus, as well as an instructional site in Katy, Texas, and online classes that students can take from anywhere. UHV supports the American Association of State Colleges and Universities Opportunities for All initiative to increase awareness about state colleges and universities and the important role they have in providing a high-quality and accessible education to an increasingly diverse student population, as well as contributing to regional and state economic development.