Close
UHV STEM Building construction completes milestone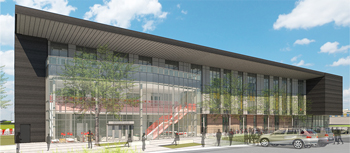 This artist's rendering shows what the new UHV Science, Technology, Engineering & Mathematics Building is expected to look like once completed.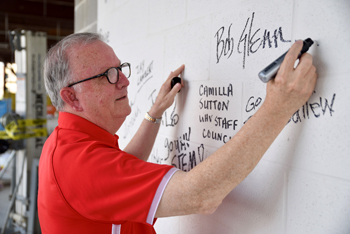 UHV President Bob Glenn gets done signing his name on a cinder block wall on Friday inside the university's new Science, Technology, Engineering and Mathematics Building. Officials took part in a "topping out" ceremony to celebrate the end of foundation and framing work on the project.
Construction on the University of Houston-Victoria's new $28 million Science, Technology, Engineering and Mathematics Building passed another milestone Friday when a "topping out" ceremony took place, marking the end of foundation and framing work on the building.
"The UHV STEM Building is going to be an exciting state-of-the-art addition to our growing campus, and we are ready for it to open for our students," UHV President Bob Glenn said. "We want to provide strong industries in this region with the employees they need. This new building will provide a space for those STEM programs to grow in the future."
Representatives from the UH System, UHV, BE&K Building Group, SmithGroup architecture firm and construction workers each signed a painted section of cinder block wall near the elevator shaft.
"We're happy to arrive at this point in construction as this building is critical to our path in becoming a destination university," said Wayne Beran, UHV vice president for administration and finance. "It will attract many students interested in STEM-related fields and increase the look and feel of our university campus."
Groundbreaking on the 58,464-square-foot, three-story STEM Building took place in November, and the building at 3007 N. Ben Wilson St. is expected to be completed by next fall. A $1.5 million gift from the M.G. & Lillie A. Johnson Foundation will help build out and equip state-of-the-art anatomy, biology and organic chemistry labs located in the new STEM Building. The gift also will help build a kinesiology lab that will be housed in the former Town Plaza Mall on Airline Road and Laurent Street that the university owns and is renovating. The STEM labs will provide students with advanced tools to learn about anatomy, physiology, biology and biochemistry, most of which are required areas of study for careers in medicine, physical therapy, occupational therapy and other health-related professions.
Chance Glenn, UHV provost and vice president for academic affairs, said he looks forward to the potential growth in STEM courses of study that the new STEM Building could help bring.
"STEM education is critical to the growth of UHV and our community, as it is critical to our nation's future," he said. "The establishment of this building is a major step toward impacting Victoria for years to come."
The new building is located on the south side of the UHV University Center, across Ben Wilson Street from the new University Commons student center. The first floor will include a 120-seat classroom; computer software and study rooms; motion capture, robotics and gaming labs; and a computer software server room, along with study spaces and spots for students to collaborate. An immersive, 210-degree screen lab also will be featured. The screen in this lab will display images that appear to surround the user, providing an interactive experience.
The second floor will feature labs for biology, anatomy, physiology, microbiology and biochemistry for students pursuing health careers. Rooms for cellular and molecular biology, plant biology and ecology research also will be included, as well as rooms for microscopy and sterilization.

"Our outstanding faculty members will be able to showcase this building as their new home and share it with students who also are passionate about the sciences," said Jeffrey Di Leo, dean of the UHV School of Arts & Sciences. "Faculty and staff will be able to collaborate on another level."
The third floor will feature additional science labs, including organic chemistry, chemistry and physics. The floor also will house a research room for biology; a chemistry prep room; several offices, workrooms and study rooms; and a classroom. In addition, an outdoor terrace will overlook campus.
Chris McDonald, the 2019-2020 UHV Student Government Association president, said he's excited to see new buildings continue to become available to students.
"UHV is growing, and this will be one more space for our students," he said. "STEM is going to do so much for the students, employees and even the Victoria community. We're all excited to see it open."
The University of Houston-Victoria, located in the heart of the Coastal Bend region since 1973 in Victoria, Texas, offers courses leading to more than 80 academic programs in the schools of Arts & Sciences; Business Administration; and Education, Health Professions & Human Development. UHV provides face-to-face classes at its Victoria campus, as well as an instructional site in Katy, Texas, and online classes that students can take from anywhere. UHV supports the American Association of State Colleges and Universities Opportunities for All initiative to increase awareness about state colleges and universities and the important role they have in providing a high-quality and accessible education to an increasingly diverse student population, as well as contributing to regional and state economic development.