Close
Daughter of fallen sheriff's deputy copes with past while working toward UHV psychology degree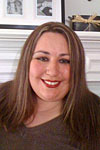 Ali Agy-Bechtel
University of Houston-Victoria student Ali Agy-Bechtel soon will graduate with a bachelor's degree in psychology. It's a degree she already has put to good use.
"My motto has always been if you deal, you heal," she said. "I want to help people who have been through problems. I've learned with all I've been through that you always do better if you deal with your problems. If you don't, you can get depression, anxiety – any number of disorders."
She had to cope with a lot during her life. Her father, a sheriff's deputy, was shot and killed in the line of duty when she was 23. His murder still is unsolved. It happened on April 5, 1995, in Liberty County, just outside Beaumont. Her father, Wilburn Agy, walked into a video store in the Sharpstown Mall area, where two masked gunmen shot him point blank and walked out with $300. There were 11 witnesses, but no one saw the gunmen clearly.
"It's almost a clueless case," Bechtel said. "Every year, the news station calls me on the anniversary of his death trying to reopen the case, but so far, the only break was a few years ago when the gun they stole from my father was found at another crime scene."
Unfortunately, the gun led to a dead end, but Bechtel still hopes any attention she can bring to the case might help solve it.
"You never know. Someone might read this and know something about it," she said. "If they do, they can contact the Houston Police Department."
But from her loss came Bechtel's first opportunity to give back to her community. She was awarded a scholarship from Concerns of Police Survivors, a nonprofit organization that supports family members who have lost a loved one in the line of duty. Bechtel became a COPS volunteer.
"Once I receive my UHV degree, I would like to work even more with COPS," she said. "I want to help the families, especially the children of fallen officers."
Bechtel carries her philosophy of facing problems way beyond the classroom and psychology books. She and her husband have two biological children, but they also adopted three others.
"Even after we had our first son, we always knew we wanted to adopt," Bechtel said. "We wanted to adopt in our area, so we adopted from Child Protective Services with the help of Arrow Child and Family Ministries."
Through the process, Bechtel learned there are more than 8,000 children in need of homes in the Houston area alone, and the majority of these children are black.
"We're Caucasian, but we decided to adopt African-American children because they had the biggest need, and we're all made in God's image," she said. "Color has never mattered to me or my husband."
But CPS was reluctant to let the Bechtels adopt a child of a different race.
"They told us our best chance was to adopt a child nobody else wanted – babies born addicted to drugs," Bechtel said.
The Bechtels first brought home a little boy named Tate. When Tate was only 4 months old, CPS asked the Bechtels if they would consider adopting another child. They readily agreed and brought home DJ. Only a few months later, they adopted another child, David.
All of her adopted children come with challenges. David was kicked out of three foster homes.
"That's where my psychology background helps," Bechtel said. "I can help him deal with it. He still has his moments, but he's doing just fine now."
Her background also helped Bechtel and her family cope when their eldest child, 10-year-old Ethan, was diagnosed with Asperger's Syndrome, a high functioning form of autism.
"He's a success story too because I never let him use it as an excuse," she said. "He just got his black belt in tae kwon do in a regular class, and he helps teach both regular and special needs classes to the other kids."
Bechtel, a Cypress resident, said most people are supportive of what she calls her "patchwork family."
"We live near Houston, and it's a pretty good area for a multicultural family," she said. "Sometimes I get looks, but I would say I get more kindness than anything. More people just need to adopt. These kids fall through the cracks. They end up on drugs or losing their own children to CPS. But it can all be stopped, and adoption is not expensive. All it takes is love and time. If you can give that, it really works."
Bechtel admits she gets overwhelmed at times, but a stable marriage and her faith give her the patience to persevere. She will graduate from UHV in December and plans to pursue a master's degree in psychology with the goal of becoming a counselor.
The UHV Outstanding Student is an online feature highlighting the exceptional students who attend the University of Houston-Victoria. To nominate a student, contact UHV Communications Manager Paula Cobler  or call 361-570-4350.
The University of Houston-Victoria, located in the heart of the Coastal Bend region since 1973 in Victoria, Texas, offers courses leading to more than 80 academic programs in the schools of Arts & Sciences; Business Administration; and Education, Health Professions & Human Development. UHV provides face-to-face classes at its Victoria campus, as well as an instructional site in Katy, Texas, and online classes that students can take from anywhere. UHV supports the American Association of State Colleges and Universities Opportunities for All initiative to increase awareness about state colleges and universities and the important role they have in providing a high-quality and accessible education to an increasingly diverse student population, as well as contributing to regional and state economic development.