Close
Harvard faculty member, skateboarder promises entertaining end to Spring Reading Series
The last author in the University of Houston-Victoria 2010 American Book Review Spring Reading Series promises he won't bore the audience.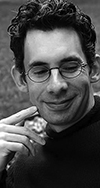 Bret Anthony Johnston
"I've been to so many readings, and so many of them are real snoozers," said Bret Anthony Johnston, author and creative writing professor. He wants things to be different for his presentation at noon Thursday in the Alcorn Auditorium of University West, 3007 N. Ben Wilson St. The event is free and open to the public.
A lot of things about Johnston separate him from his colleagues. He probably is the only head of an Ivy League creative writing department who was a competitive skateboarder. And he's certain he's the first former competitive skateboarder to be director of the creative writing program at Harvard University in Cambridge, Mass.
During his presentation, he hopes to honor his audience members with something worth their time.
"I want to give them an experience," he said. "I want to entertain them. There are so many other things they could be doing than spending an hour or so with me."
Good readings can be exciting and even life changing, he said, like the first reading he ever attended.
It all happened when he was a 23-year-old student at Del Mar College in Corpus Christi and went to a reading in the Corpus Christi Literary Reading Series by Robert Stone, author of "Dog Soldiers," a book about the Vietnam War.
"One of my teachers handed me a ticket to go see a writer do a reading, and I went in knowing that I loved to write. I went in knowing that I loved to read," he said. "An hour later, I came out of that reading wanting to be a writer, knowing it was possible to be a writer and that it would be a dignified way to spend my time. After that, I dedicated myself to trying to become a writer."
He found more than just dignity in the pursuit.
Johnston is the author of the internationally acclaimed "Corpus Christi: Stories" and the editor of "Naming the World: And Other Exercises for the Creative Writer."
Named a Best Book of the Year by The Independent of London and The Irish Times, "Corpus Christi: Stories" received The Southern Review's Annual Short Fiction Award, the Texas Institute of Letters' Debut Fiction Award, the Christopher Isherwood Prize and the James Michener Fellowship.  
Johnston's work appears in magazines such as The Paris Review, The New York Times Magazine, Esquire, The Oxford American and Tin House, and in anthologies such as "New Stories from the South: The Year's Best" 2003, 2004, 2005, 2008 and 2010.  
He is a recipient of the Glasgow Prize for Emerging Writers and a National Endowment for the Arts Literature Fellowship. He has written essays for Slate.com and is a regular contributor to National Public Radio's "All Things Considered."
In 2006, the National Book Foundation honored him with a new National Book Award for writers under 35.
In 2004, he was invited to give a reading hosted by the Corpus Christi Literary Series, the same series that set him on his path in life.
"It was a nice homecoming," the Corpus Christi native said.
He still finds time to skate at least a few times a week.
And while it would be wonderful if his reading at UHV provided the same inspiration that was given to him, he said he'll be satisfied with simpler results.
"I'm hoping not to do a snooze-fest. I'm hoping not to throw up on stage," he said. "If it's better than that, we're in good shape."
His host said he anticipates something worthwhile during the presentation.
"Mr. Johnston has taken the literary world by storm since his first appearance," said Jeffrey Di Leo, editor and publisher of the American Book Review and dean of the UHV School of Arts & Sciences. "The audience will be entertained, captivated and even enlightened by his presentation."
Johnston has been asked to include in his reading a few words he has written about skateboarding, Di Leo noted.
While in Victoria for the Reading Series, authors also attend roundtable discussions with UHV faculty and students, make classroom visits to area schools, give lectures that are open to the community, and go to receptions hosted by Friends of ABR patrons. Past speakers have included Pulitzer Prize-winning historian David M. Oshinsky, author and Iranian refugee Farnoosh Moshiri, and Mexican American author Dagoberto Gilb, who has since joined UHV as a writer-in-residence and executive director of Centro Victoria.  
ABR is a nonprofit, internationally distributed literary journal that is published six times a year. It began in 1977, moved to UHV in 2007 and has a circulation of about 8,000. The journal specializes in reviews of works published by small presses.
For more information about the UHV/ABR Reading Series, call ABR Managing Editor Charles Alcorn at 361-570-4100 or go to www.americanbookreview.org.
The University of Houston-Victoria, located in the heart of the Coastal Bend region since 1973 in Victoria, Texas, offers courses leading to more than 80 academic programs in the schools of Arts & Sciences; Business Administration; and Education, Health Professions & Human Development. UHV provides face-to-face classes at its Victoria campus, as well as an instructional site in Katy, Texas, and online classes that students can take from anywhere. UHV supports the American Association of State Colleges and Universities Opportunities for All initiative to increase awareness about state colleges and universities and the important role they have in providing a high-quality and accessible education to an increasingly diverse student population, as well as contributing to regional and state economic development.