Close
UHV faculty member teaches top cops from around the world
Law enforcers from other countries are learning better ways to fight organized crime and terrorists from an assistant professor of criminal justice at the University of Houston-Victoria.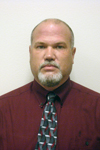 Keith Akins
Keith Akins, UHV graduate coordinator for criminal justice, and homeland and international security, recently began serving as an instructor for the International Law Enforcement Academy program organized by the U.S. Department of State.
The program teaches advanced law enforcement techniques and strategies to officials from developing countries often wracked with crime since the fall of the colonial systems and the Soviet Union.
"This is giving their leaders an opportunity to learn about modern western criminal justice methods," Akins said.
Under the program, 40 senior law enforcement officials from four countries in the same region travel to the academy's facility in Roswell, N.M., to take classes for four weeks. The students spend a full day studying under Akins while he teaches them about international organized crime, and will spend two days with him when he teaches a class about terrorism in May.
Akins covers topics such as human smuggling, arms trafficking, electronic theft, art and antiquities theft, and piracy during his organized crime seminar.
His terrorism curriculum will include a look at historical strategies for fighting terrorism since the 1970s and a review of what has and hasn't worked. It includes effective methods to isolate terrorists, cut off their funding and disrupt their networks. Akins uses similar material during his UHV counterterrorism classes.
During his first session in February, Akins worked with law enforcement officials from the eastern European countries of Georgia, Moldova, Montenegro and Albania. During his March class, he worked with representatives from the African nations of Sierra Leone, Ghana and Nigeria. In May, he said he is looking forward to teaching students from Caribbean nations.
"Many of the leaders I've spoken with hope to pursue master's degrees in criminal justice through UHV in the near future," Akins said. Efforts are underway to make grants available to help fund the educational efforts of these international students.
UHV's extensive online offerings make many of its degree programs available anywhere in the world.
"This is just the latest example of the truly international reach of UHV and the School of Arts & Sciences," said Jeffrey Di Leo, dean of the UHV School of Arts & Sciences. "Education empowers people no matter who they are or where they are, and we are proud to play a role in the elevation of individuals wherever we can."
The School of Arts & Sciences has agreements with several universities in China to allow students to finish graduate degrees in computer science in Fort Bend County and Victoria. It also houses international entities like the Society for Critical Exchange and the American Book Review.
UHV has an international presence that includes sharing curriculum with universities in China and Vietnam; student and faculty exchange programs with universities in Mexico, Spain and China; and other global initiatives.
The University of Houston-Victoria, located in the heart of the Coastal Bend region since 1973 in Victoria, Texas, offers courses leading to more than 80 academic programs in the schools of Arts & Sciences; Business Administration; and Education, Health Professions & Human Development. UHV provides face-to-face classes at its Victoria campus, as well as an instructional site in Katy, Texas, and online classes that students can take from anywhere. UHV supports the American Association of State Colleges and Universities Opportunities for All initiative to increase awareness about state colleges and universities and the important role they have in providing a high-quality and accessible education to an increasingly diverse student population, as well as contributing to regional and state economic development.