Close
UHV to recognize three faculty for teaching, service and research
All higher education faculty members are expected to teach classes, conduct research and provide service to their university and community. But three University of Houston-Victoria faculty members were singled out by their peers as outstanding in those areas and will be recognized at the university's spring commencement ceremony on Saturday.
School of Business Administration associate professors Vera Adamchik and Joseph Ben-Ur, and School of Arts & Sciences associate professor Richard Gunasekera will be honored for excellence in teaching, service or research.
"We have many outstanding professors at UHV, and these professors are three shining examples," UHV President Tim Hudson said. "They are committed to making a difference in the lives of students, the prestige of the university and the success of our surrounding communities."
Adamchik is the recipient of the 2009-2010 Enron Teaching Excellence Award, given annually to a faculty member who provides innovative, high-quality instruction for students. Along with Ben-Ur and Gunasekera, she will receive a monetary award and plaque before graduation.

Vera Adamchik
"I am extremely honored to be named this year's recipient of the Enron Teaching Excellence Award," said Adamchik, who teaches economics classes to UHV Master of Business Administration students in Sugar Land, Katy and online. "My main goal as an economics instructor is to show MBA students the value of studying economics, to show them that economics underpins many other fields on the curriculum, and that sound training in economics is important to business managers."
UHV students nominated about 30 professors for the teaching award, and Adamchik was selected from five finalists who supplied additional materials to a selection committee.
Adamchik also has been a finalist for the Enron Teaching Excellence Award four other times during her nine-year tenure at UHV. In addition, the university awarded her with several research grants to allow her to conduct research on labor markets in transition economies. Most recently, she received an honorable mention award for her presentation about the Belarusian banking industry at the 2010 General Business Conference in Huntsville.
Adamchik said she wanted to thank the students who nominated her for the award, her colleagues and the UHV staff.
"I am very proud of this extraordinary honor," she said. "I accept this award with profound gratitude and a due sense of the responsibility that comes with such an honor. I hope to continue to live up to it."
Ben-Ur, who teaches marketing in the School of Business Administration, said he also is proud to be recognized by UHV. He is the 2009-2010 recipient of the Distinguished Faculty Service Award for his outstanding service to the scientific community, to UHV and to the local and regional communities.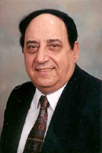 Joseph Ben-Ur
"Many faculty members are engaged in service and are doing a great job, so I am honored to receive this award," said Ben-Ur, who teaches in Victoria and online.
During the 2002-2003 school year, Ben-Ur served as the first president of the UHV Faculty Senate, an elected group that represents faculty at the university, and chair of the University Faculties Executive Council for the University of Houston System.
He stays active in serving the university as chair of the School of Business Administration Undergraduate Curriculum Planning and Assessment Committee, and the Marketing Search Committee, and as a member of the UHV Graduate Studies Committee and Undergraduate Affairs Committee. He also serves as a senior editor for the Journal of Political Marketing, a quarterly national journal that examines the use of marketing and business practices by politicians. In addition, he is a member of the Scientific Committee of the Annual International Political Marketing Conference.
Ben-Ur also thinks it is important for faculty members to provide their expertise to help surrounding communities.
Shortly after he started working at UHV in 1996, he and two other UHV faculty members helped design and conduct a survey of higher education needs in the El Campo community. This led to the construction of the Northside Education Center in El Campo.
"We put a lot of effort into the project, and we were able to help the community," Ben-Ur said.
Farhang Niroomand, dean of the School of Business Administration, said he is pleased that both Adamchik and Ben-Ur will be recognized on Saturday.
"The performance of these faculty demonstrates the SBA's broad commitment to excellence, as well as our culture of productivity," he said. "I'm proud of what they have accomplished."
Gunasekera, a biochemical geneticist who teaches in Victoria and Sugar Land and is director of biological sciences graduate studies and laboratories, said he appreciates the support he has received from UHV. He is the 2009-2010 recipient of the Research and Scholarly Activity Excellence Award.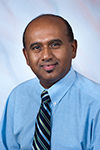 Richard Gunasekera
"I've been blessed," he said. "I'm very grateful to UHV for all the support and teamwork to start the biology program at UHV and create our state-of-the-art research laboratories in Victoria and at the University of Houston System at Sugar Land."
Gunasekera spoke in 2009 at the European Human Genetics Conference in Vienna, Austria, about his genetics research involving children in Tibet with Kashin-Beck disease, a degenerative disorder of the bones and joints. He also was invited to present his findings about the disease and case studies in forensic science at the Texas Society for Genetics annual conference in March in Houston.
In addition, Gunasekera, who began experimental cancer research at UHV, is working on a research project with Peter Anderson, an oncologist and professor at the University of Texas M.D. Anderson Cancer Center in Houston. They are studying how chemotherapy and nutritional therapy can be made more effective in cancer patients. The research is funded by a grant received by Gunasekera from the UT System's Texas Ignition fund and is being conducted at UHV with clinicals at M.D. Anderson.
Gunasekera has had four articles published in national and international peer-reviewed journals within the last year.
Jeffrey Di Leo, dean of the UHV School of Arts & Sciences, said he is thrilled that Gunasekera is being recognized for his work.
"This accomplishment speaks well of the School of Arts & Sciences, the biology program and the fine research that Dr. Gunasekera has done," he said.
The University of Houston-Victoria, located in the heart of the Coastal Bend region since 1973 in Victoria, Texas, offers courses leading to more than 80 academic programs in the schools of Arts & Sciences; Business Administration; and Education, Health Professions & Human Development. UHV provides face-to-face classes at its Victoria campus, as well as an instructional site in Katy, Texas, and online classes that students can take from anywhere. UHV supports the American Association of State Colleges and Universities Opportunities for All initiative to increase awareness about state colleges and universities and the important role they have in providing a high-quality and accessible education to an increasingly diverse student population, as well as contributing to regional and state economic development.