Close
Working full time doesn't deter School of Arts & Sciences outstanding students
Working full time while maintaining a 4.0 grade-point average is not only possible, but achievable, say two students chosen as the Outstanding Students for the Spring from the University of Houston-Victoria School of Arts & Sciences.
Moatez Adham, who is finishing his bachelor's degree in biology, and David Phillips, who is taking online classes toward his master's degree in computer information systems, each have maintained a 4.0 GPA while holding down jobs.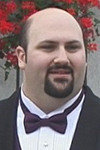 David Phillips
"I have a full-time job, three kids and a wife. It's just a really busy life, so managing my time is probably the biggest challenge," said Phillips, a senior analyst for Verizon Wireless who lives in Arlington. "It's important, especially with online classes, because you're not going to class at a particular time. It's very unstructured."
Likewise, through most of his college career, Adham has taken 20-hour semester course loads while working 45 hours a week. In addition, he has volunteered at OakBend Medical Center in Houston and in UHV's science labs.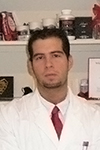 Moatez Adham
"Where there's a will, there's a way," said Adham, a Sugar Land resident who plans to take the Medical College Admission Test and apply for medical school in the coming months. "I really owe it to my parents because they raised me to organize my time properly and do my best."
He also credits his professors at UHV for making his coursework easier.
"One of the most important attributes in a teacher is the ability to communicate," Adham said. "I had some great teachers at UHV who not only communicated effectively but exceeded expectations."
He and Phillips also exceeded their professors' expectations. Each semester, faculty in the school select two outstanding students – one undergraduate and one graduate – based on their academic records and related achievements. Both students receive $250 from the School of Arts & Sciences Faculty Excellence Fund, a fund established through donations from the school's faculty.
"We are proud of David and Moatez for their perseverance and commitment," said Jeffrey Di Leo, dean of School of Arts & Sciences. "These are the kind of students who become leaders and pacesetters, and their accomplishments show that."
Phillips urged other students working toward higher degrees to persevere.
"Dig in, and don't give up until you're done, even if it takes longer than you expected," he said.
Students also should avoid viewing a 4.0 grade-point average as out of reach, Adham said.
"A 4.0 exists. That's why I got it," he said. "It's not like something impossible. If it exists, then it can happen. Believe in yourself, and you can achieve it."
The University of Houston-Victoria, located in the heart of the Coastal Bend region since 1973 in Victoria, Texas, offers courses leading to more than 80 academic programs in the schools of Arts & Sciences; Business Administration; and Education, Health Professions & Human Development. UHV provides face-to-face classes at its Victoria campus, as well as an instructional site in Katy, Texas, and online classes that students can take from anywhere. UHV supports the American Association of State Colleges and Universities Opportunities for All initiative to increase awareness about state colleges and universities and the important role they have in providing a high-quality and accessible education to an increasingly diverse student population, as well as contributing to regional and state economic development.