Close
National organization selects UHV School of Nursing dean for advocacy award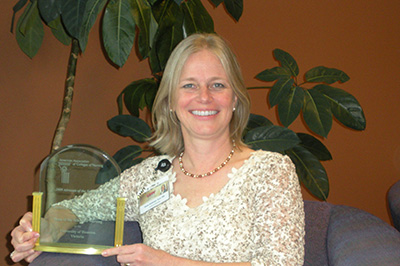 Kathryn Tart, founding dean of the University of Houston-Victoria School of Nursing, is the 2009 American Association of Colleges of Nursing Advocate of the Year.
Kathryn Tart, founding dean of the University of Houston-Victoria School of Nursing, recently was selected from 646 nursing deans across the nation to receive the American Association of Colleges of Nursing Advocate of the Year award for her work on behalf of the nursing profession.
"Dr. Tart is the founding dean of a young nursing program and has clearly made it a priority to engage in the advancement of nursing education and research policy on behalf of nursing students and faculty across the country," said Teri Murray, chair of the association's Government Affairs Committee and dean of the School of Nursing at St. Louis University in St. Louis, Mo.
Tart was named the 2009 AACN Advocate of the Year at the association's spring meeting in Washington, D.C. The award was given based on the visits Tart made to legislators during the association's spring and fall meetings, and the nursing advocacy messages she sent to legislators during the year.
"If we don't advocate for our profession, then policy changes occur more slowly or don't happen at all," Tart said. "I just feel very honored to have the UHV School of Nursing get more national exposure with this award."
Tart, who started her position at UHV in September 2008, has spoken with legislators both at the state and national level about the UHV School of Nursing and the importance of funding for nursing education, she said.
UHV didn't have a nursing program until 2006, and the Texas Higher Education Coordinating Board didn't approve a proposal until 2007 to allow the university to create a School of Nursing. The school now offers bachelor's and master's degrees in Victoria, Sugar Land and Katy. Its first attempt at national accreditation paid off in October when the Commission on Collegiate Nursing Education fully accredited the school's undergraduate and graduate programs for the next five years.
"We're a new school and I'm a new dean, so I just thought it was really important for me to get involved," she said.
Tart has written letters on her own time to U.S. legislators asking them to support Title VIII of the Public Health Service Act, which provides funding for nurses, nursing students, nursing schools and healthcare facilities. Increased funding for nursing students is important so that more nurses will get advanced degrees, she said.
"Educational progression is so important within our profession because the more educated the nurse, the better care he or she can give patients," Tart said.
UHV President Tim Hudson said he has been impressed with Tart's work ethic since she first came to UHV.
"She is constantly educating people about the UHV School of Nursing and the nursing profession," he said. "I couldn't think of a more deserving recipient for this national award."
The University of Houston-Victoria, located in the heart of the Coastal Bend region since 1973 in Victoria, Texas, offers courses leading to more than 80 academic programs in the schools of Arts & Sciences; Business Administration; and Education, Health Professions & Human Development. UHV provides face-to-face classes at its Victoria campus, as well as an instructional site in Katy, Texas, and online classes that students can take from anywhere. UHV supports the American Association of State Colleges and Universities Opportunities for All initiative to increase awareness about state colleges and universities and the important role they have in providing a high-quality and accessible education to an increasingly diverse student population, as well as contributing to regional and state economic development.