Close
Student, age 66, takes classes while running company and advising government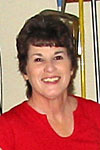 Jorita Nix
University of Houston-Victoria graduate student Jorita Nix says she's just like any other student. She manages to take classes around her work schedule, studies hard and tries to help out the community when she has time.
But she's also 66 years old, her company builds multimillion dollar assisted living centers and physical rehabilitation hospitals, and her community service consists of advising both the state and federal governments about better living conditions for the aging and those with disabilities. Nix even helped create the current Texas assisted living legislation, and this grandmother of two did it all with a disability and after suffering a stroke in 2008.
Nix, a Victoria resident, suffers from a rare condition known as thoracic outlet syndrome in which ribs constrict the blood flow in arteries from the heart resulting in strokes and heart attacks. She had several heart attacks and strokes by the time she was 40, and doctors told her she needed to have two ribs removed. She had the surgery and then went through months of therapy to get the use of her arms back.
Life improved for Nix, and 25 years ago, she started N&N Associates, a company that researches and creates assisted living facilities and physical rehabilitation hospitals and advises the government on aging and disabled issues. Her company built a $17 million research facility in Oklahoma and is now in the process of building a $120 million rehabilitation campus in Texas.
"My business just sort of evolved into what it is today," Nix said. "It started out from helping my aging parents. I thought, 'There's got to be something better than just a nursing home.' For so many years, your only option was to stay at home and do the best you could or send them to a nursing home. There was no in between. That's what assisted living is about. It's about the housekeeping and chores, helping them dress, helping them cook meals. My mother used assisted living until she passed away in her 90s."
But Nix knew things had to change on another level, and she soon became an advocate for assisted living legislation. She helped create Texas' current Community Based Assisted Living Program and has advised the government numerous times on issues concerning the aging and those with disabilities. Still one aspect of her business bothered her. When her company was asked to contribute to research or address Congress, Nix often had to bring in other consultants with doctorates to speak.
"Under former Texas Governor Ann Richards, I was able to pass assisted living legislation," Nix said. "But I had to call in friends from other states who had doctorates to come speak at the assisted living conferences, and I thought, 'I'm doing all the work, and you're the ones getting to talk about it.' So I decided I was going back to school to get my doctorate."
Now getting her Bachelor of Business Administration at UHV, Nix said she's in no hurry.
"I'll get there when I get there," she said. "For me, education is a never-ending process. Business changes constantly, so it's another way for me to keep up with new approaches. That degree is more than just a piece of paper. I have a purpose for my education and that's running a corporation."
Nix also believes the brain is a muscle and just like any other muscle, if people don't use it, they lose it. It would be a philosophy that would see her through another hurdle, a small stroke that happened while she was in class.
"People who retire into their rocking chairs never make it long," she said. "They don't keep their brains and bodies active. I had a stroke in 2008, but I finished the semester and kept going. It damaged my short-term memory. I would know what I wanted to say, but I couldn't think of the word."
Nix realized she was starting to falter in certain areas, particularly math. While the stroke left her unable to compute basic math, she came up with a unique solution. She simply started taking classes in areas she had no prior experience, forcing her brain to use other regions that weren't damaged. Instead of college algebra, she took real estate math.
"Someone tells me they can't do something and I ask, 'Why not?' When I had a stroke, I rebuilt the circuits in my brain. It is an amazing muscle, and if you give it the right tools, it will put down new circuits. My regular math circuits were ruined, so I laid down new ones."
Now Nix is wondering if her technique could be used to help other stroke victims.
"Take, for example, people who have lost their ability to speak English," she said. "Could you teach them Spanish, teach their brain to put down entirely new circuits instead of trying to use damaged ones? And could you eventually use the new circuits to help them relearn English?"
Through it all, Nix has remained humble. She doesn't think she's accomplished anything exceptional.
"When you see some of the people I work with, people who have come back after being severely disabled, those are the people I admire," she said.
The UHV Outstanding Student is an online feature highlighting the exceptional students who attend the University of Houston-Victoria. To nominate a student, contact UHV Communications Manager Paula Cobler  or call 361-570-4350.
The University of Houston-Victoria, located in the heart of the Coastal Bend region since 1973 in Victoria, Texas, offers courses leading to more than 80 academic programs in the schools of Arts & Sciences; Business Administration; and Education, Health Professions & Human Development. UHV provides face-to-face classes at its Victoria campus, as well as an instructional site in Katy, Texas, and online classes that students can take from anywhere. UHV supports the American Association of State Colleges and Universities Opportunities for All initiative to increase awareness about state colleges and universities and the important role they have in providing a high-quality and accessible education to an increasingly diverse student population, as well as contributing to regional and state economic development.