Close
UHV student celebrates May successes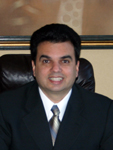 Antonio Garcia
May was a good month for former University of Houston-Victoria nursing undergraduate Antonio Garcia.
Not only did he receive a $1,500 scholarship as part of the Houston Chronicle's Salute to Nurses program, he also graduated May 15 from UHV with a Bachelor of Science in Nursing.  
The UHV School of Nursing was asked to nominate a student who had excelled in his studies and had shown exceptional character, dedication and promise. Garcia and four other students from the Houston area who exemplified these ideals then were chosen to receive scholarships and were recognized at a luncheon.  
Garcia took UHV nursing classes at the University of Houston System at Sugar Land and did clinical work at Garcia Middle School in the Fort Bend Independent School District. He created a grant-based pilot program to teach all seventh-grade students cardiopulmonary resuscitation.  
Garcia said he thinks his previous experience as a Registered Nurse helped him receive the scholarship.  
"The program I was in at UHV is designed specifically for Registered Nurses who want to get their bachelor's degree, so I'm not new to nursing," he said. "I've been a nurse for eight years, so I think it was a combination of my academic record and my past life experience that allowed me to help as many people as I did during my clinical rotation and receive this scholarship. I was very honored."  
Garcia gives his preceptor, Nellie Hartsell, a RN at Garcia Middle School in Sugar Land, credit for making his clinical experience a success.  
"One of the objectives for your clinical rotation is to come up with a project that will benefit others and see it through completion," Garcia said. "I was very lucky that I had Nellie as my preceptor. Preceptors are there to advise students and make sure that they obtain the maximum benefit from the clinical experience. Nellie was very energetic and excited about the CPR program. She allowed me to create the pilot program and, after everything was said and done, it was a resounding success."  
Garcia, a former professional firefighter, said he was drawn to the nursing field by his desire to serve the public.  
"I've always felt a calling to help people in need," he said. "You do that as a firefighter, but as a nurse, you employ a lot more knowledge and skill. I like that combination."  
Garcia works in the ambulatory care unit at OakBend Medical Center in Richmond. In September, he will start a Master of Science in Nursing program.  
"I knew I wanted to go straight through from my BSN to my master's," he said. "I've done a lot of soul-searching and decided I want to go all the way. I want to specialize in the administrative area of nursing and become a part of upper management. You can't do that in today's health care environment without a master's degree, and a doctorate will take me even further. I'd encourage anyone who wants to pursue a good profession to consider nursing. It's a very rewarding career and gives you the opportunity to do good for a lot of people."
The UHV Outstanding Student is an online feature highlighting the exceptional students who attend the University of Houston-Victoria. To nominate a student, contact UHV Communications Manager Paula Cobler  or call 361-570-4350
The University of Houston-Victoria, located in the heart of the Coastal Bend region since 1973 in Victoria, Texas, offers courses leading to more than 80 academic programs in the schools of Arts & Sciences; Business Administration; and Education, Health Professions & Human Development. UHV provides face-to-face classes at its Victoria campus, as well as an instructional site in Katy, Texas, and online classes that students can take from anywhere. UHV supports the American Association of State Colleges and Universities Opportunities for All initiative to increase awareness about state colleges and universities and the important role they have in providing a high-quality and accessible education to an increasingly diverse student population, as well as contributing to regional and state economic development.