Close
Former UHS student regent learns from experience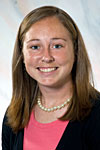 Kristen Lindley
University of Houston-Victoria graduate student Kristen Lindley learned a lot in her year as the student regent on the University of Houston System Board of Regents.
"There have been several student regents, but I was the first to come from the UHV campus," she said. "Though I represented the students from all the campuses, I thought it was really neat to be the first from UHV."
Those who serve on the Board of Regents are appointed by the Texas governor. After applying for the position, Lindley was recommended by UHV President Tim Hudson to UHS Chancellor Renu Khator. She, in turn, recommended Lindley to the governor's office. On June 1, 2009, she was appointed to a one-year term as the student regent by Gov. Rick Perry. Lindley's term ended May 31.
"I learned so much," she said. "You're right in the middle of everything. It was great to be on such a prestigious board. I experienced many new situations like meeting with state legislators and business leaders. Being a student regent challenges you and forces you to grow."
The Board of Regents is the governing body that oversees the University of Houston System made up of UH-Clear Lake, UH-Downtown, UHV, the UH System at Cinco Ranch, the UH System at Sugar Land and the main campus in Houston.
The organization is responsible for directing numerous affairs, including the endowment fund, tuition and fees, and admission standards.
"Basically, anything that needs approval from any of the campuses comes to us," Lindley said. "At first, the learning curve is huge because you're immediately thrown into so much new information. During my first meeting, we went over enrollment predictions, tuition and fees, and space utilization. At the time, I didn't know anything about those topics, but you get past that fairly quickly. The other regents recognize you are inexperienced, and they're very considerate of that and very helpful."
Lindley had a strong background to help her prepare for her new responsibilities. She already had achieved a Bachelor of Business Administration from UHV in the spring of 2009. Her studies concentrated on accounting, and in the spring of 2011, she'll graduate from UHV with a Global Master of Business Administration.
"I try to tell every student who asks me about being a regent to apply for it," Lindley said. "You've got nothing to lose, and it's such a rewarding experience. I didn't know all the things I would personally gain from it. I made great connections; I grew as a person, and it's just a lot of fun. You get to go to so many events and do so many things you can't do as a regular student."
Lindley, a Victoria resident, also works at UHV as a special assistant to Wayne Beran, vice president for administration and finance. As an undergraduate, she played two years of softball as a pitcher for the Jaguars and served as the UHV Student Senate president in 2008-09.
This summer, she will join the UHV study abroad program in London to study international business. She also is in the process of taking the different sections of the Certified Public
Accountant exam. When she graduates in the spring of 2011, Lindley wants to continue her education by obtaining her doctorate and eventually become a professor of accounting.
The UHV Outstanding Student is an online feature highlighting the exceptional students who attend the University of Houston-Victoria. To nominate a student, contact UHV Communications Manager Paula Cobler  or call 361-570-4350
The University of Houston-Victoria, located in the heart of the Coastal Bend region since 1973 in Victoria, Texas, offers courses leading to more than 80 academic programs in the schools of Arts & Sciences; Business Administration; and Education, Health Professions & Human Development. UHV provides face-to-face classes at its Victoria campus, as well as an instructional site in Katy, Texas, and online classes that students can take from anywhere. UHV supports the American Association of State Colleges and Universities Opportunities for All initiative to increase awareness about state colleges and universities and the important role they have in providing a high-quality and accessible education to an increasingly diverse student population, as well as contributing to regional and state economic development.