Close
UHV STEM Building receives award for architecture design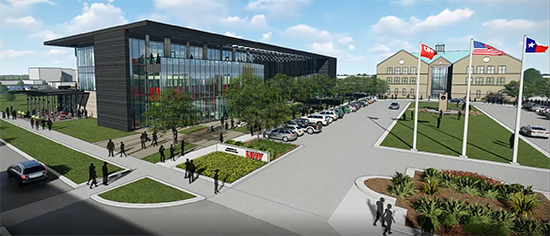 This artist's rendering shows what the new UHV Science, Technology, Engineering & Mathematics Building, on left, is expected to look like once completed. The building's architectural design by SmithGroup recently received an award.
The University of Houston-Victoria Science, Technology, Engineering and Mathematics Building may not be open yet, but it's already won an award for architectural design from the Corpus Christi chapter of a national architecture group.
The UHV STEM Building was recognized with an honorable mention award during the American Institute of Architects Corpus Christi Chapter's 2019 Design Awards Program. The awards program is held once every three years, and UHV's building was one of only eight projects in the region that were recognized. The building was designed by SmithGroup, an architecture firm with offices across the nation.
"This is an exciting honor, because UHV's newest academic building is an award-winning building before it's even open for classes," said Matt Alexander, UHV capital projects director. "One of the reasons the university chose SmithGroup to be the building's architect was its previous experience designing STEM buildings, and I am glad to see the firm receive recognition for the work it has done for UHV."
The design awards are divided into five categories: residential, commercial/industrial, institutional/civic/religious facilities, interior architecture and unbuilt. The UHV Stem Building was honored in the unbuilt category. The institute gives awards selected by a jury of architects that reviews individual submissions' qualifications.
The three-story, 58,464-square-foot UHV STEM Building is planned to open in the fall. It will feature state-of-the-art labs that will provide students with advanced tools to learn about anatomy, physiology, biology and biochemistry, most of which are required areas of study for careers in medicine, physical therapy, occupational therapy and other health-related professions.
The building also will include a 120-seat classroom; computer software and study rooms; motion capture, robotics and gaming labs; and a computer software server room, along with study spaces and spots for students to collaborate. An immersive, 210-degree screen lab also will be featured. The screen in this lab will display images that appear to surround the user, providing an interactive experience.
Designing the STEM Building was a process that involved collaborating with UHV faculty members who will be using the space and the university's facilities personnel, said Randall Daniel, an architect with SmithGroup and the building's project designer.
"We gave as many people as possible the opportunity to give their input so we could steer the design to meet their needs," Daniel said. "We worked in ways to make the building energy efficient and a pleasant environment for students and faculty. This building should serve the university well for years to come."
Some of the jury comments about the design called the building "ambitious" and recognized that the building "weaves design into the intent of the school that amplifies it" and has a "synergy with design and learning at heart."
"This building will be the most stunning in a 100-mile radius," said Jeffrey Di Leo, dean of the UHV School of Arts & Sciences. "To receive this award before the building even opens is a clear validation that UHV is on the right track. The design team did a fantastic job working with our faculty members to incorporate their suggestions and create a space that will be both stunning and welcoming."
The University of Houston-Victoria, located in the heart of the Coastal Bend region since 1973 in Victoria, Texas, offers courses leading to more than 80 academic programs in the schools of Arts & Sciences; Business Administration; and Education, Health Professions & Human Development. UHV provides face-to-face classes at its Victoria campus, as well as an instructional site in Katy, Texas, and online classes that students can take from anywhere. UHV supports the American Association of State Colleges and Universities Opportunities for All initiative to increase awareness about state colleges and universities and the important role they have in providing a high-quality and accessible education to an increasingly diverse student population, as well as contributing to regional and state economic development.