Close
Foundation awards UHV $50,000 for summer bridge program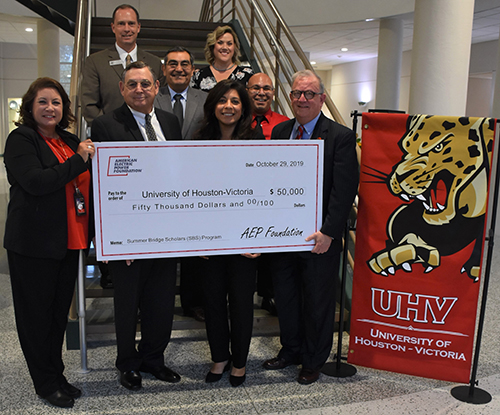 Executives from AEP Texas present a $50,000 check to the University of Houston-Victoria to pay for tuition for 50 students who will enroll in the university's new Summer Bridge Scholars program. In the first row, from left, are Vee Strauss, local AEP Texas external affairs manager; Julio Reyes, AEP Texas vice president of external affairs; Judith Talavera, AEP Texas president and COO; and UHV President Bob Glenn. Behind them are Jesse Pisors, UHV vice president for advancement and external relations; Frank Espinoza, AEP Texas director of corporate communications; Courtney Middleton-Sides, UHV senior director of corporate and foundation relations; and Eric Camarillo, UHV manager of academic support and a University College instructor.
A $50,000 grant from the American Electric Power Foundation to the University of Houston-Victoria will cover tuition for 25 students a year enrolled in the university's new Summer Bridge Scholars program in 2020 and 2021.
The grant will be handled by UHV University College administrators, who will implement the summer bridge program as part of a new initiative to help students better prepare for college. The grant will help cover tuition for a total of 50 area commuter students starting this summer.
"We first began researching summer bridge programs about three or four years ago, and we saw the value in a program that would help students make the transition from high school to college," said Beverly Tomek, UHV associate provost and dean of University College. "Because there are fewer students taking classes during the summer, the summer bridge students will be able to receive more individual attention from UHV faculty."
The university will offer summer bridge program courses for incoming freshmen who are not considered "college ready" because they had difficulty with portions of the Texas Success Initiative Assessment, Tomek said. Students will take math or English classes during the summer as well as have access to courses that will help them complete their basic math or English requirements during their freshman year.
In addition to the courses, students will be required to meet with academic advisors, tutors and other support personnel to ensure they receive the assistance they need to succeed. The grant also is geared toward area commuter students.
Judith E. Talavera, AEP Texas president and COO, said she is a first-generation college student and can attest to how valuable a college education has been in her life.
"AEP Texas and the AEP Foundation strongly believe that one of the best ways to make an impact to our local and regional economy is by preparing students for the highly skilled, well-paying jobs of tomorrow," Talavera said. "Preparing students to be competitive for these jobs is a great step; therefore, I commend the UHV administration for developing the Summer Bridge Scholars program because it will help encourage students to complete their college education, which is vitally important."
UHV chose to use the grant to cover the cost of tuition because it makes the option of summer bridge courses more appealing to students, said Eric Camarillo, UHV manager of academic support and a University College instructor.
"This program is even more inviting with the grant because it means students can earn their core classes for just the cost of books and gas to get to and from campus," Camarillo said. "At the same time, they have the opportunity to become familiar with the campus, so by the time they start taking classes in the fall, the campus doesn't feel so foreign to them."
Thanks to the support from AEP Foundation in covering the cost of tuition for students, UHV will be able to provide the summer bridge program for area students. This is a welcome investment in UHV and the surrounding communities, Tomek said.
American Electric Power, the parent company of AEP Texas, created the AEP Foundation in 2005 to continue the tradition of corporate philanthropy in AEP and its regional utilities and to support and play an active, positive role in the communities where AEP employees live and work.
"We are deeply grateful to the AEP Foundation for this compelling demonstration of partnership," said Jesse Pisors, UHV vice president for advancement and external relations. "AEP Texas serves our region with excellence and commitment, and this grant further demonstrates its commitment to our community. An investment in higher education has a long-lasting and life-changing impact."
To learn more about the summer bridge program, contact Camarillo at 361-570-4286 or camarilloec@uhv.edu.
The University of Houston-Victoria, located in the heart of the Coastal Bend region since 1973 in Victoria, Texas, offers courses leading to more than 80 academic programs in the schools of Arts & Sciences; Business Administration; and Education, Health Professions & Human Development. UHV provides face-to-face classes at its Victoria campus, as well as an instructional site in Katy, Texas, and online classes that students can take from anywhere. UHV supports the American Association of State Colleges and Universities Opportunities for All initiative to increase awareness about state colleges and universities and the important role they have in providing a high-quality and accessible education to an increasingly diverse student population, as well as contributing to regional and state economic development.