Close
UHV announces addition of new graduation regalia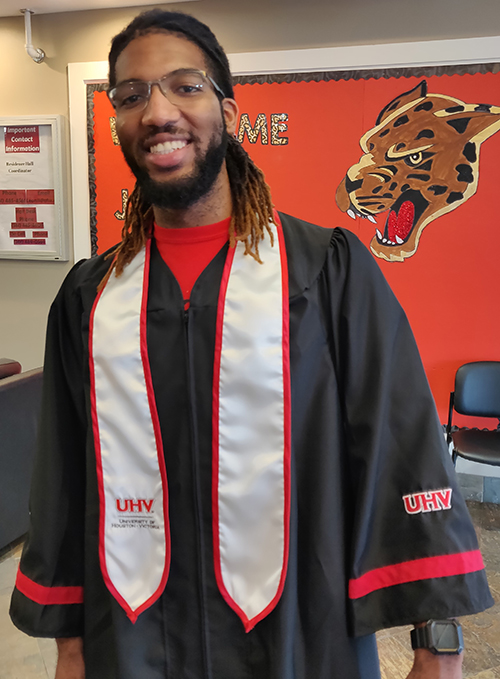 Christopher McDonald, UHV Student Government Association president, models the university's new graduation regalia. The robes feature the UHV logo and red stripes on the sleeves. Students also can purchase a Stole of Gratitude and give it to a person who supported them as they were working toward earning a degree.
December graduates from the University of Houston-Victoria will be the first group to participate in a new university tradition: UHV-specific graduation regalia.
UHV's new robes for its fall graduates will feature a UHV logo and red stripes on both sleeves. The regalia was designed by members of the university's Student Government Association in response to requests from students, said Michael Wilkinson, UHV senior director of student services and judicial affairs, and advisor for the association. The new design will appear on both graduate and undergraduate robes.
"Our student leaders wanted to design something that lets our students proudly display the logo and colors of their new alma mater as they accept their degrees," Wilkinson said. "It's a tradition that will unify our graduates."
In addition to the gown design, the university will add a stole, called the "Stole of Gratitude," that students can purchase to wear over their robes. The white stole features a red border and an embroidered UHV logo on one side. Students will wear the stoles during the graduation ceremony. Afterward, as part of a new UHV tradition, they can give the stole to someone who supported them while they were working toward earning their degrees.
The initiative to create the new regalia spanned three Student Government Association administrations from its original suggestion to approving the final design, said Christopher McDonald, president of the association and a UHV graduate student.
"It is feels amazing to be able to finally get this new tradition kicked off," McDonald said. "It means so much to see students get excited over the new regalia. This initiative was for them. This regalia will be something I will want to proudly show to my children and grandchildren one day."
For UHV senior Sophia Solano, being able to put on custom UHV regalia as she prepares to graduate Dec. 14 is a surreal experience. The San Antonio resident already has purchased the new regalia and wore it in her senior photos.
"It feels amazing to be part of this first group," she said. "Our university uses the tagline 'Make Your Mark,' and now the university has put its logo on the regalia. It makes everything feel more official."
During her time as a UHV student, Solano has seen the university start several traditions, from the new class ring to the "UHV Alma Mater." Solano even got a front-row seat to one of UHV's newer traditions when she was named homecoming queen during the 2019 UHV Homecoming celebration.
"It's crazy seeing all of these new traditions come to life," she said. "It's especially meaningful because I'm a first-generation student. No one in my family really knew what a college experience was like, and now I get to watch it and help it take shape for myself and others at UHV."
The new regalia is available through the Jag Station Bookstore in UHV University Commons, 3006 N. Ben Wilson St. Students also can purchase it online until Nov. 18 at colleges.herffjones.com/college/uhv.
The University of Houston-Victoria, located in the heart of the Coastal Bend region since 1973 in Victoria, Texas, offers courses leading to more than 80 academic programs in the schools of Arts & Sciences; Business Administration; and Education, Health Professions & Human Development. UHV provides face-to-face classes at its Victoria campus, as well as an instructional site in Katy, Texas, and online classes that students can take from anywhere. UHV supports the American Association of State Colleges and Universities Opportunities for All initiative to increase awareness about state colleges and universities and the important role they have in providing a high-quality and accessible education to an increasingly diverse student population, as well as contributing to regional and state economic development.