Close
Book published by UHV business dean lands on Amazon Best Sellers lists
When Ken Colwell published his first book less than a year ago, he didn't expect to wake up one day to find out his book on how to start a business would climb to the top of some of Amazon's Best Sellers lists.
"I think most of the time when people publish a book, they don't think of it as something that will be a bestseller," said Colwell, dean of the University of Houston-Victoria School of Business Administration. "There are millions of books on Amazon, and being in the top 2,000 paperbacks sold is beyond anything I would have expected."
Colwell's book, "Starting a Business QuickStart Guide: The Simplified Beginner's Guide to Launching a Successful Small Business, Turning Your Vision Into Reality and Achieving Your Entrepreneurial Dream," was published last spring. The publisher is ClydeBank Business, a division of ClydeBank Media LLC in Albany, N.Y.
In his book, Colwell, who has more than 20 years of experience teaching business strategy and entrepreneurship as well as working with entrepreneurs and his own ventures, goes over fundamentals of how to start and run a successful business.
He approached the subject in four main parts: the mental aspects of running a business, developing a clear value proposition, a workable business model and how to turn all of those elements into a set of business plan media to convey a vision to a broad audience.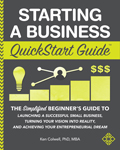 As of Wednesday, Colwell's book was ranked at the top of several Amazon Best Sellers lists, including No. 1 on Amazon's Distribution & Warehouse Management list; No. 2 on the Business Fashion & Image; and No. 3 on the Outsourcing list.
The book has 97 customer reviews and has a 4.6 out of 5 star-rating, with 80 percent of customers giving the book a 5-star rating. One customer review said that "Ken Colwell doesn't just simply lay out steps; he dives into the crux of what it takes to be an entrepreneur … I've been running a business for five years and still found it super helpful and insightful for my next venture. I wish I could have read it sooner so I could have avoided some of the mistakes I've made."
Colwell said he is glad to hear his book is doing well, because in it he breaks through the myths of what a typical business journey looks like and shows that anyone could truly become an entrepreneur.
Colwell said he has started thinking about writing another book that would expand on the subject of mindfulness and business.
"The whole process has been a pleasant surprise to me," he said. "It's exciting to know that the content of the book is resonating with people."
The University of Houston-Victoria, located in the heart of the Coastal Bend region since 1973 in Victoria, Texas, offers courses leading to more than 80 academic programs in the schools of Arts & Sciences; Business Administration; and Education, Health Professions & Human Development. UHV provides face-to-face classes at its Victoria campus, as well as an instructional site in Katy, Texas, and online classes that students can take from anywhere. UHV supports the American Association of State Colleges and Universities Opportunities for All initiative to increase awareness about state colleges and universities and the important role they have in providing a high-quality and accessible education to an increasingly diverse student population, as well as contributing to regional and state economic development.