Close
UHV student lands internship at Disney World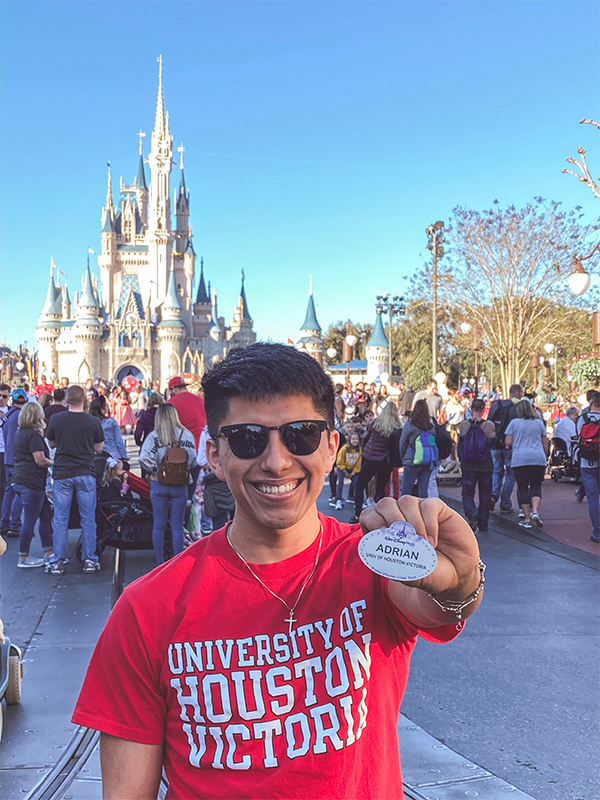 Adrian Chavana Jr., a UHV sophomore from Port Lavaca, stands in front of Cinderella's Castle Monday at Walt Disney World and displays his official Disney cast member name badge. Chavana will be in Orlando, Fla., for four months as part of an internship through The Walt Disney Company.
Like many people, Adrian Chavana Jr. grew up watching Disney movies and visited the Disney theme parks. So when the Port Lavaca native found out The Walt Disney Company offered internships, he took a chance and applied.
The chance paid off for the University of Houston-Victoria kinesiology major, who was accepted into the Disney College Program for the spring. He started the program at the end of January in Orlando.
"I couldn't believe that I got accepted," Chavana said. "I was so excited and shocked because thousands of students apply, and I was accepted. It's crazy and exciting."
Chavana, 20, is in his second semester at UHV. He applied for the Disney College Program last year for the fall semester but did not get accepted, he said. He didn't let the rejection deter his goal of working at a Disney park. Instead, he researched how to create a stronger resume and reached out to a former cast member for advice. Disney employees are called cast members.
Chavana will spend the spring semester as a paid cast member in guest services at Disney's Hollywood Studios, one of the parks within Disney World.
"It's really exciting because new Star Wars attractions just opened, so I'm really looking forward to helping people enjoy their time at the park," he said.
During his orientation, called Disney Traditions, Chavana met other students in the program, toured the park and learned about the company's core values, called the Four Keys: safety, courtesy, show and efficiency. Mickey Mouse also presented Chavana with his work ID.
Chavana, who is considering becoming a physical therapist, is excited to gain work experience from such a big company. He is taking one UHV course online during his internship, which will end in May. He plans to return to UHV after he finishes the program and take courses this summer.
"I know this experience will help me when I apply for graduate school and for jobs in my career," he said. "I would tell other students to not give up on their dream internship or job. Keep trying because you just might get it."
Amy Hatmaker, director of UHV Career Services, said internships are a valuable part of the college experience. Some internships are eligible for course credit, depending on the student's degree plan.
"Internships are a great way to build skills and references," Hatmaker said. "Many entry-level jobs want a student to have worked in their field as well as a degree. Internships are often the best route to gain that experience. We can help students highlight what skills employers are looking for in their resumes and job applications."
Students looking into internships can contact Career Services at 361-570-4385 or 361-570-4378 to receive help with their resumes and applications. Employers interested in starting an internship program at their company also are encouraged to call UHV Career Services to speak to Hatmaker about internship opportunities.
The University of Houston-Victoria, located in the heart of the Coastal Bend region since 1973 in Victoria, Texas, offers courses leading to more than 80 academic programs in the schools of Arts & Sciences; Business Administration; and Education, Health Professions & Human Development. UHV provides face-to-face classes at its Victoria campus, as well as an instructional site in Katy, Texas, and online classes that students can take from anywhere. UHV supports the American Association of State Colleges and Universities Opportunities for All initiative to increase awareness about state colleges and universities and the important role they have in providing a high-quality and accessible education to an increasingly diverse student population, as well as contributing to regional and state economic development.