Close
UHV alumnus balances leadership position with own business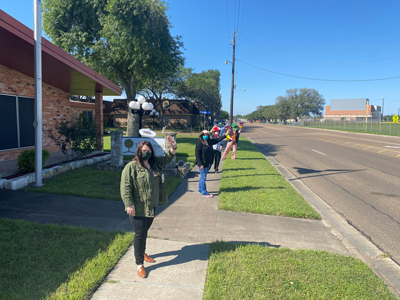 Staff of The Courtyard Rehabilitation & Healthcare Center stand outside the center on April 15 and wave at cars driving by during the daily resident parade. UHV alumnus A.J. Villanueva is the executive director of the center and said the staff dresses up in costumes and takes the residents outside to enjoy the sun and weather every morning.
In the five years since he graduated, University of Houston-Victoria School of Business Administration alumnus A.J. Villanueva has learned what it takes to be a good leader and establish a business.
"In general, the biggest lesson I've learned is to put people first and serve others," said Villanueva, executive director of Courtyard Rehabilitation and Healthcare Center, and owner of AJ's Detailing. "When you put your employees first, they will move mountains, and everything else falls into place."
Villanueva is a Rio Grande Valley native who moved to Victoria in 2009 with his parents from Harlingen after he graduated from high school. Growing up, he always had a sense of entrepreneurship, and he decided to get a Bachelor of Business Administration at UHV.
Villanueva has been the executive director at Courtyard Rehabilitation and Healthcare Center in Victoria for about a year and a half. Because of the COVID-19 pandemic, the center has had to increase regulations to help keep the residents safe and healthy, and visitors are no longer allowed. There are new guidelines posted nearly every day, and the center has increased its monitoring of its residents, he said. The center has not had any cases of COVID-19.
"A.J. is one of the many unsung heroes in our community who works tirelessly to protect an at-risk population during this pandemic," said Kira Mudd, UHV director of alumni relations and annual giving. "It is inspiring to learn about how his humble, servant leadership approach to business has produced great success and allowed him to be a difference maker to many. We appreciate A.J. – and all who work on the front lines – and the leadership example he sets by showing how much he cares for his people. We are proud to call A.J. a UHV alumnus."
Despite the current difficult and stressful time, Villanueva has enjoyed working at the center and helping residents. One of the things that brightens his day is when the clock strikes 10 a.m. At that time, all the residents and staff go outside for a "resident parade." The staff dress up in costumes and take the residents outside to enjoy the sun and weather. The daily parade has caught the eye of the Kelly Clarkson Show, and will be featured on the daytime show's "Home Not Alone" campaign, which features feel-good video clips of people finding ways to spread joy or a laugh during the COVID-19 pandemic.
"We put on music, dance, wave at cars driving by and just enjoy the fresh air together," Villanueva said. "We try to have as much fun as possible, which is especially important now during such a stressful time."
At the core of everything he does, whether it is at the center or his business, is serving others. As an administrator, Villanueva makes sure to put his employees and the care of residents first. He has also learned that self-realization is key to becoming a better leader.
"It is OK to have faults and weaknesses, and when we take a moment to recognize what we can improve on, we can truly grow in all our relationships," he said. "I think we are all here to help each other."
Villanueva has the same philosophy about his detailing business. His interest in car care started more than 10 years ago when he got a dark, metallic navy Toyota Tacoma.
"A vehicle is probably the second-biggest investment a person can make in his life right after buying a house. It's not just another bill to pay – it is a vehicle that takes you from place to place safely," he said. "I wanted to properly take care of my vehicle, so I researched and researched how to best care for my truck."
Villanueva had no idea how elaborate and expensive proper vehicle care and maintenance could be, which included much more than running the vehicle through a car wash. He started detailing and washing cars on weekends and after work. Once he learned more about detailing from a mentor in the car business, he invested in starting his own business, AJ's Detailing.
The business was established in January 2018, and since then, Villanueva said he has worked on a variety of high-end sports cars, classic cars, trucks, sport utility vehicles and even private planes. Villanueva, along with two detail specialists, also makes sure to educate each customer about services and products that are used on the vehicle. The business was named a top finalist in the 2018 and 2019 Victoria Advocate's Best of the Best, and this year won Best of the Best in the car wash and detailing category. He also is working to establish partnerships with other local businesses.
Villanueva said his time at UHV taught him how to become a better leader and business owner. Specifically, the capstone course each business student must take at the end of his final year helped him learn how to plan a business. His advice to students is to stay motivated in their pursuits. They should make monthly goals and keep track of what improvements could be made if those goals are not met.
"You may get defeated multiple times, but do not get discouraged," he said. "If you don't meet some goals, think of what you can do to improve so that you can be successful."
The University of Houston-Victoria, located in the heart of the Coastal Bend region since 1973 in Victoria, Texas, offers courses leading to more than 80 academic programs in the schools of Arts & Sciences; Business Administration; and Education, Health Professions & Human Development. UHV provides face-to-face classes at its Victoria campus, as well as an instructional site in Katy, Texas, and online classes that students can take from anywhere. UHV supports the American Association of State Colleges and Universities Opportunities for All initiative to increase awareness about state colleges and universities and the important role they have in providing a high-quality and accessible education to an increasingly diverse student population, as well as contributing to regional and state economic development.