Close
UHV Student Senate members spend busy summer volunteering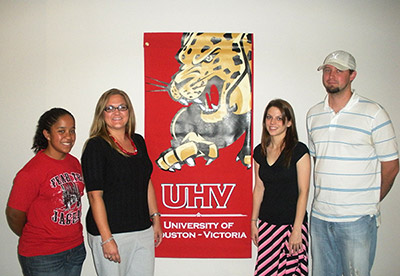 Members of the 2010-11 University of Houston-Victoria Student Senate have spent a lot of time this summer volunteering both on and off campus. Pictured from left are several members of the Senate: Senator At Large Ashleigh Kellis-Carr, Senator At Large Melanie Castaneda, President Paige Ruschhaupt and Senator At Large Josh Walker.
Summer typically is a time when members of the University of Houston-Victoria Student Senate schedule few meetings and activities. But all that has changed this summer with the group's involvement in freshman orientation sessions and volunteer opportunities.
"I really want the Senate to be known on campus, so we're loving every minute of this," Student Senate President Paige Ruschhaupt said.
Since the 2010-11 Student Senate members were elected in the spring, they have volunteered at the Texas Zoo, manned a Student Senate table at freshman orientations, served as student ambassadors during orientations, and provided campus tours during Jaguar soccer tryouts and to large school groups.
"They have really hit the floor running," Student Senate adviser Janet Foerster said. "They are a wonderful, wonderful group."
As the Senate's adviser, Foerster gets contacted by various groups when they need volunteers, and the 12 members of the Student Senate have stepped in to help.
Melanie Castaneda, a senator at large who is majoring in education at UHV, has helped with activities throughout the summer including a children's camp at the Texas Zoo.
"Wherever I needed to be, that's where I went," she said about her experience.
Her philosophy on volunteering has always been to jump in with both feet.
"It's important to not just wear your title," she said. "If you're going to be involved with something, you should be involved."
Her involvement also has included volunteering at this summer's freshman orientation sessions for the university's FIRST 200, who will start classes in the fall.
Senate members have set up a table during each session to sell Jaguar T-shirts and decals. They also have taken applications for a freshman committee they are forming to provide input during the school year to the Senate. The senators hope that members of the committee become inspired to run for a Senate office in the future.
"Being on the committee will let them see how things in the Senate work and get experience with student government," said Josh Walker, a senator at large who is majoring in psychology.
Many of this year's senators also have represented UHV as student ambassadors during freshman orientations. As ambassadors, the senators take the students to different classrooms for sessions during the day, talk to students about their experiences at UHV and answer questions about the university.
"They have a lot of questions about Jaguar Hall, and they want to know what they can do for fun in Victoria," said Ashleigh Kellis-Carr, a senator at large who also is majoring in psychology.
The senators are encouraging the incoming freshmen to join a UHV student organization or form their own if they have a different idea for a group.
Although the last of the student orientation sessions will take place in August, the Student Senate members don't expect that things will slow down much for them. They already have committed to helping out with Welcome Week activities the week of Aug. 23 and may serve as mentors to the new freshmen during the school year.
"It feels like we're really doing something," Walker said.
The University of Houston-Victoria, located in the heart of the Coastal Bend region since 1973 in Victoria, Texas, offers courses leading to more than 80 academic programs in the schools of Arts & Sciences; Business Administration; and Education, Health Professions & Human Development. UHV provides face-to-face classes at its Victoria campus, as well as an instructional site in Katy, Texas, and online classes that students can take from anywhere. UHV supports the American Association of State Colleges and Universities Opportunities for All initiative to increase awareness about state colleges and universities and the important role they have in providing a high-quality and accessible education to an increasingly diverse student population, as well as contributing to regional and state economic development.