Close
University celebrates year of successes in first virtual annual report event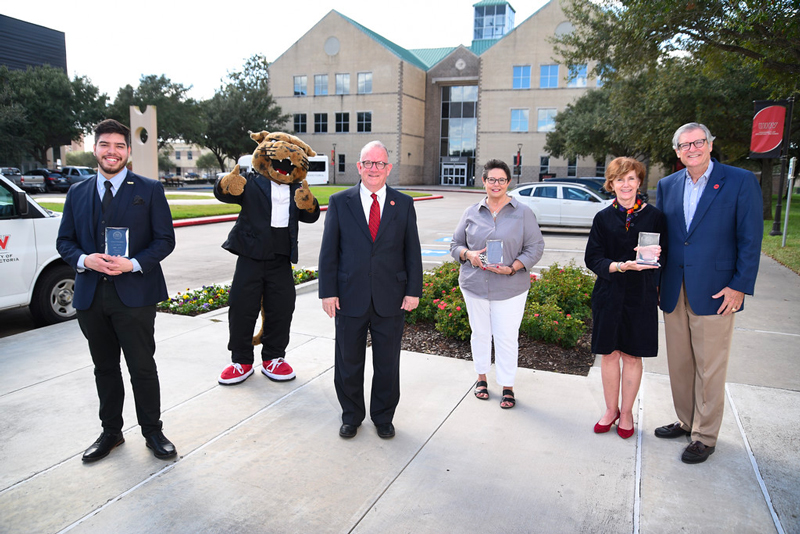 UHV President Bob Glenn, center, stands with UHV's mascot jaX and award winners Tuesday after the 2019-2020 UHV President's Annual Report and Excellence Awards. Pictured with Glenn, from left, are UHV student Cesar Gonzalez, recipient of the Student Leadership Award; Robin Cadle, president and CEO of the Food Bank of the Golden Crescent in Victoria and recipient of the People Who Make a Difference Award; and Phyllis and Lane Keller, owners of KMH Wealth Management LLC and Keller and Associates CPAs PLLC, recipients of the Community Partnership Award.
University of Houston-Victoria leaders gathered at noon Tuesday to present the virtual 2019-2020 UHV President's Annual Report & Excellence Awards, celebrating a year of successes, handing out awards to community partners and a UHV student, and announcing the final results of the Here, We Go fundraising campaign.
The public event was held virtually for the first time and was streamed to the university's Facebook page and on UHV's annual report website at www.uhvannualreport.com.
The theme for the event was "Roaring as One" because of how the UHV community and supporters came together to tackle challenges in order to be successful during 2019-2020. These challenges included the COVID-19 pandemic and a fire in mid-March that temporarily closed UHV University West, the university's main academic building. Classes were moved to online; university events, including spring commencement, were canceled or postponed; campus was closed to all except essential personnel, and the Jaguars' spring athletic season abruptly ended.
Despite these challenges, the university added new degrees, partnered with the community on projects, opened new buildings and celebrated construction milestones, and received rankings from numerous national organizations. More information about UHV's successes and major events in 2019-2020 can be found at www.uhvannualreport.com.
"This past year truly tested us, but what comes to mind when I think about 2019-2020 is the way we came together as Jaguars and with the communities that we serve to move forward during challenging times," UHV President Bob Glenn said.
The university gave three awards during the ceremony, including the People Who Make a Difference Award, which pays tribute to those who have supported the university and made a difference in the quality of life of the community.
The award was presented to Robin Cadle, president and CEO of the Food Bank of the Golden Crescent in Victoria. Cadle leads the food bank in serving communities in 11 counties, including JP's Market, a student food pantry that serves UHV and Victoria College students. She is a three-time UHV alumna and is an adjunct faculty member for the UHV School of Business Administration.
"I am grateful for the leadership skills I've gained through my journey at UHV and the knowledge I've obtained here through the years," Cadle said. "UHV will always hold a special place for me."
Another award from the event was the Community Partnership Award, which is presented to a person, business or organization that has helped advance the quality of life in the region and at the university. This year, the award was given to Victoria residents and UHV alumni Lane and Phyllis Keller. They are longtime, generous supporters of the university, both personally and professionally through their businesses – KMH Wealth Management LLC and Keller and Associates CPAs PLLC.
The Kellers both served as members of the UHV Here, We Go Campaign Leadership Committee, and Lane has been a member of the UHV President's Regional Advisory Board for several years. KMH Wealth Management has provided a matching challenge for UHV's Giving Tuesday campaign, including 2019, which saw record-breaking support from 530 individual donors. In 2016, Lane and Phyllis Keller created the Lane and Phyllis Keller Family Scholarship Endowment for business students. As of Aug. 31, the scholarship endowment had a value of more than $56,000 and is generating thousands of dollars annually for student scholarships.
"I believe education is extremely important," Phyllis Keller said. "It opens your mind to a plethora of ideas and an understanding of all of those ideas. You learn to think on your own and not to be dependent on what others espouse. We choose to continue to support UHV to further people's lives."
The third award presented during the event was the Student Leadership Award, which recognizes a student who demonstrates excellence in leadership and academics. The award was given to Cesar Gonzalez, a graduate student and UHV alumnus from Rosenberg. Gonzalez is pursuing a Master of Science in Economic Development and Entrepreneurship at UHV and is a graduate assistant in UHV Student Life. He graduated in May with a Bachelor of Business Administration in management and marketing.
During his time at the university, he has been involved in student organizations, including the Business Student Association and as vice president and president of the Jaguar Activities Board. He has worked for three years as a resident assistant in the UHV residence halls, and also has received numerous UHV recognitions, including the Spirit of the Jaguar award in 2017-2018 and the Student Employee Excellence award in 2018-2019. Gonzalez was crowned the 2019 UHV Homecoming king, and in May, he was the recipient of the UHV Leadership Legacy award. In addition, he has been named to the UHV Dean's List multiple times.
"I am grateful for everyone who offered a position to grow my leadership skills, and all the leadership examples in my classes, work and at the university," Gonzalez said. "I am just grateful and humbled."
Jesse Pisors, UHV vice president for advancement and external relations, also announced the final results of the Here, We Go fundraising campaign, which ended Aug. 31. UHV's fundraising goal during the multiyear campaign was $12 million. The university ended up raising $13,430,540.
In addition to these awards and announcements, the event featured videos about Student Life, Athletics and UHV's three schools, followed by speeches about highlights from the past year. These included:
The School of Arts & Sciences announced that it would begin offering new degrees and concentrations to better meet the needs of students. The programs included the Master of Arts in Criminal Justice, Bachelor of Science in Digital Gaming & Simulation and a dual-concentration degree plan for both the counseling psychology and forensic psychology graduate programs. Students could choose between the professional counselor and psychological associate degree concentrations in the programs, leading to two Texas licensure options: the Licensed Professional Counselor or the Licensed Psychological Associate.
The Association to Advance Collegiate Schools of Business reaccredited the School of Business Administration after a rigorous review process. AACSB accredits less than 5 percent of business schools worldwide and first accredited the UHV School of Business Administration in 2005.
A $165,000 grant awarded by Blue Cross and Blue Shield of Texas to the University of Houston Foundation funded the expansion of a community-based program that focuses on ways to reduce chronic kidney disease in at-risk populations. The new grant allowed 50 more people to take part in the Victoria County program and the program to expand to 50 participants in Calhoun County. This was the second grant awarded to the program, which is led by a UHV faculty member.
The UHV men's soccer team broke into the NAIA Top 25 rankings for the first time in the program's history when the team received a No. 22 ranking.
The Student Government Association worked with university administration to create custom UHV regalia for students to wear at commencement. The regalia was unveiled at the December 2019 commencement ceremony.
The 2019-2020 annual report website features videos; UHV's enrollment and financial figures; a list of donors; faculty, staff and alumni highlights; photos from the year and more.
The University of Houston-Victoria, located in the heart of the Coastal Bend region since 1973 in Victoria, Texas, offers courses leading to more than 80 academic programs in the schools of Arts & Sciences; Business Administration; and Education, Health Professions & Human Development. UHV provides face-to-face classes at its Victoria campus, as well as an instructional site in Katy, Texas, and online classes that students can take from anywhere. UHV supports the American Association of State Colleges and Universities Opportunities for All initiative to increase awareness about state colleges and universities and the important role they have in providing a high-quality and accessible education to an increasingly diverse student population, as well as contributing to regional and state economic development.