Close
Business students analyze building service company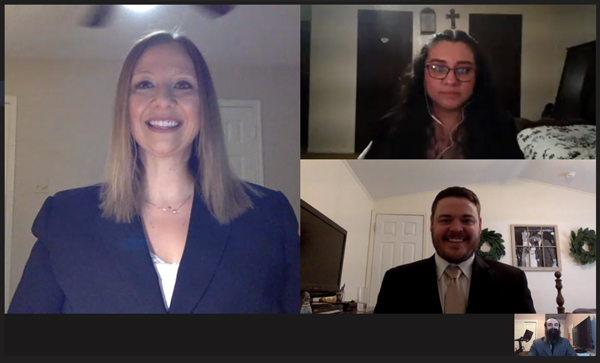 UHV School of Business Administration students, clockwise from left, Candice Trybull of Sugar Land; Bianca Garcia, Harwood; Luke Labeff, Inez; and Trevor Babbitt, Austin, participate in a Microsoft Teams meeting during the 27th Bachelor of Business Administration Case Conference. The team members won first place for their analysis of Comfort Systems USA.
When Candice Trybull and Trevor Babbitt first met with their teammates to plan out the workload for the 27th University of Houston-Victoria Bachelor of Business Administration Case Conference, they all agreed they weren't going to worry about placing well in the competition. They just wanted to get an A in the course.
On Saturday, they did more than get an A. Trybull, a Sugar Land resident; Babbitt, who lives in Austin; and their teammates, Bianca Garcia of Harwood and Luke Labeff of Inez, won first place for their analysis of Comfort Systems USA, a building and service provider for mechanical, electrical and plumbing building systems.
"The past year has been difficult for students, and I am proud to see them excel in spite of the challenges we've all faced," said Tong Kang, a UHV assistant professor of management who taught the winning team. "All of our students have put countless hours into this capstone course. It is rewarding to see them complete their journey so successfully."
The UHV School of Business Administration held Saturday's conference virtually through Microsoft Teams. Every semester since 2007, students enrolled in "Strategic Management," the BBA program's capstone course, have attended the conference and competed as teams in the presentation of a company case analysis. This year's conference included 168 students in 38 teams. During the conference, students must present information from different analyses of a company to a panel of judges made up of UHV faculty, alumni and community business leaders, who give scores to individuals and teams.
One of the keys to the team's success was the members' range of expertise. This made it easier to divide up the work in ways that reflected each student's strengths, Babbitt said. The project involved three parts: internal analysis, external analysis and recommendations. Each section was divided among the students.
Another positive contributor was how well the team worked together, Trybull said.
"Even though none of use had worked together before, we hit it off quickly and established a genuinely positive and respectful working relationship," she said. "We had weekly meetings, even during vacations, but we also always respected each other's lives outside the classroom and found ways to work around challenges involving jobs, children and other personal things."
When preparing the analysis of Comfort Systems USA and recommendations to help the company grow, the team had two main suggestions: increase current supply lines to help expand the company's operations into Canada, and look into ways to grow into residential areas. As part of those plans, the team also presented a strategy for the company to reduce its debt.
"I'm so proud of our entire team," Babbitt said. "We all worked so hard and contributed. The consistent, excellent effort put in by everyone helped us succeed beyond what we had hoped."
Other teams placing in the BBA competition were:
Second Place – Thu Do and Sheddrick Phelps of Houston, and Jesus Flores and Tabassum Siddique of Katy.
Third Place – Seth Boeker, Anthony Keverline, Darwin Sosa and Gloria Sosa of Katy.
The University of Houston-Victoria, located in the heart of the Coastal Bend region since 1973 in Victoria, Texas, offers courses leading to more than 80 academic programs in the schools of Arts & Sciences; Business Administration; and Education, Health Professions & Human Development. UHV provides face-to-face classes at its Victoria campus, as well as an instructional site in Katy, Texas, and online classes that students can take from anywhere. UHV supports the American Association of State Colleges and Universities Opportunities for All initiative to increase awareness about state colleges and universities and the important role they have in providing a high-quality and accessible education to an increasingly diverse student population, as well as contributing to regional and state economic development.