Close
UHV celebrates nursing graduates with virtual pinning ceremony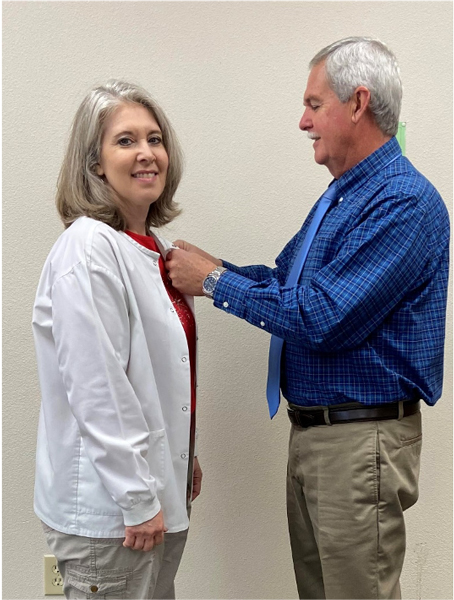 Amy Whaley, left, receives her UHV Nursing pin that signifies she graduated from the university's Registered Nurse to Bachelor of Science in Nursing program. This picture of her husband, Elvis Whaley, putting the pin on her lapel was used during the university's first virtual pinning ceremony Friday that honored the 11 students who graduated during the fall.
The University of Houston-Victoria School of Education, Health Professions & Human Development held its first virtual pinning ceremony Friday afternoon to celebrate the accomplishments of the university's nursing students.
"After all nurses have gone through during the pandemic, we didn't want to miss this opportunity to honor them and their accomplishments," said Tara Vaughn, UHV interim director of nursing. "They've faced so many challenges and persevered, and we are so proud to see them reach this goal."
The ceremony was hosted through Microsoft Teams. During previous physical events, nursing students would receive a unique UHV nursing pin that they will wear on their lapels to let patients know that well-educated nurses are caring for them. The pin itself signifies the nursing program from which a nurse graduated. Each nursing school has its own unique pin.
For the virtual ceremony, UHV sent the pins to each of the 11 students who completed the Registered Nurse to Bachelor of Science in Nursing program. Each student took a picture of a family member or loved one putting the pin on the student's lapel. The pictures were then showed during the virtual event when the student's name was read aloud.
In addition to the pictures of the individual students, the ceremony also included an address from UHV President Bob Glenn and was attended by Chance Glenn, UHV provost and vice president for academic affairs; Rachel Martinez, interim dean of the education school; and Cindy Hudson, the founding director of the current UHV nursing program who is now dean of nursing at North Park University in Chicago.
Because the nursing students are already registered nurses, they are juggling working long, unpredictable hours in health care during the pandemic while working toward their degree, Vaughn said. Combined with family needs such as children learning from home and other family members having to work from home, being called for extra shifts and other struggles, this has been an especially trying time.
"Our faculty members have worked hard to make sure students have the resources and support they need to graduate," she said. "There have been many late-night texts, emails and phone calls as each of our students pushed through. Now, many of our graduates are either getting promotions, starting new careers or have been accepted into nurse practitioner programs. We're so proud of all of them."
For Amy Whaley of Goliad, the ceremony was a good opportunity to celebrate her achievement with her family, including her mother in North Carolina and her son in Austin. The community health portions of the program especially helped her prepare for her new position as director of health services at Robstown Independent School District.
"For me the pinning ceremony is just as important as graduation," she said. "It's the culmination of a long process, and I'm proud to get my pin and join the ranks of other nurses who have taken this step. This has been a stressful time, but I feel ready to face what's ahead because of what I learned at UHV."
The University of Houston-Victoria, located in the heart of the Coastal Bend region since 1973 in Victoria, Texas, offers courses leading to more than 80 academic programs in the schools of Arts & Sciences; Business Administration; and Education, Health Professions & Human Development. UHV provides face-to-face classes at its Victoria campus, as well as an instructional site in Katy, Texas, and online classes that students can take from anywhere. UHV supports the American Association of State Colleges and Universities Opportunities for All initiative to increase awareness about state colleges and universities and the important role they have in providing a high-quality and accessible education to an increasingly diverse student population, as well as contributing to regional and state economic development.