Close
UHV faculty, staff, students serve community at vaccine clinics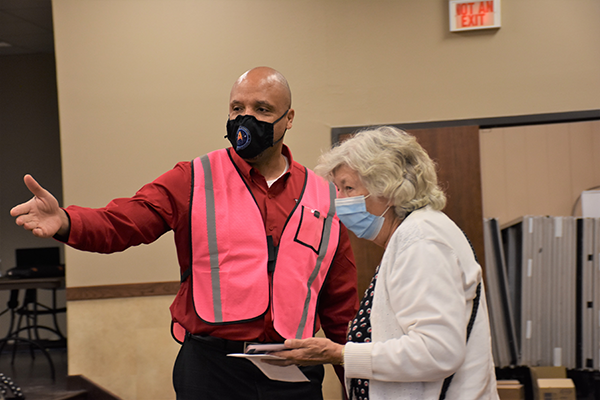 Chance Glenn, University of Houston-Victoria provost and vice president for academic affairs, helps direct June Buchhorn during a recent COVID-19 vaccine clinic at the Victoria Community Center. UHV faculty, staff and students have volunteered at Victoria clinics during the vaccine rollout.
After a year of enduring the coronavirus pandemic, the end is within reach with the rollout of COVID-19 vaccines, and members of the University of Houston-Victoria community are helping to distribute the vaccine in Victoria.
Dozens of UHV faculty, staff and students have volunteered their time this spring to help the Victoria County Public Health Department administer the vaccines to thousands of residents during the vaccine clinics at the Victoria Community Center.
"The University of Houston-Victoria is stepping up for the community so that Victoria can have this vaccine hub available for residents," said Chance Glenn, UHV provost and vice president for academic affairs. "So many people from the UHV campus community want to support our Victoria community during this time, and I am proud to see UHV faculty, staff and students demonstrate community spirit."
During the vaccine clinics, volunteers help by greeting people; doing clerical work; and directing people to each station. The Victoria County Public Health Department is expecting to administer about 5,000 vaccines each week, with that number increasing in the weeks to come. Glenn was one of 30 UHV faculty, staff and students who volunteered during a recent clinic.
"The support by the University of Houston-Victoria and other community volunteers is critical to the success of our COVID-19 mass vaccination clinics," said David Gonzales, director of the Victoria County Public Health Department. "We simply would not be able to administer the number of vaccines we currently do without all their help and the thousands of hours they have put into serving the community. The UHV volunteers and other volunteers and staff members at the clinics will be responsible for saving countless lives in the fight against COVID-19."
Volunteering for the community during this critical time was important for Jennifer Ortiz-Garza, a UHV senior lecturer of psychology. She has volunteered at the local vaccine clinic several times in different capacities, including translating for Spanish-speaking attendees. Ortiz-Garza also commended the public health department for how well the vaccine clinic was organized and for making slight adjustments whenever the public supplied feedback.
"I felt it was important to volunteer so that I could help be a part of the solution and help us all get back to a non-COVID world," she said. "Some people are excited to get the vaccine, and some people are a little scared. As volunteers, we are able to be that cheerful face and helpful person to ease people's anxiety and help them get what they need. It's been a great experience."
Victoria resident Gloria Martinez attended the March 4 vaccine clinic to receive her first dose of the Moderna vaccine. Martinez said she was excited to finally receive the vaccine and couldn't wait to get it done.
"The volunteers show us exactly where we need to go and are all so nice," Martinez said. "They make us feel at ease, and that's one thing we all need – to feel at ease during this time."
Claudialicia Walker, a UHV sophomore from Dallas, spent an afternoon volunteering at the clinic by helping direct people to vaccine stations. She felt a responsibility as a UHV student and young adult to do her part and help others during the pandemic.
"I am aware that even though I am young, I can still spread it, so I have been doing my best to help stop the spread," Walker, a communications major, said. "The fact that I can help people get the vaccine makes me feel good."
The University of Houston-Victoria, located in the heart of the Coastal Bend region since 1973 in Victoria, Texas, offers courses leading to more than 80 academic programs in the schools of Arts & Sciences; Business Administration; and Education, Health Professions & Human Development. UHV provides face-to-face classes at its Victoria campus, as well as an instructional site in Katy, Texas, and online classes that students can take from anywhere. UHV supports the American Association of State Colleges and Universities Opportunities for All initiative to increase awareness about state colleges and universities and the important role they have in providing a high-quality and accessible education to an increasingly diverse student population, as well as contributing to regional and state economic development.