Close
Winners of Black History Month poster contest announced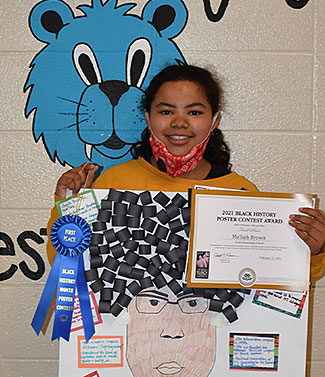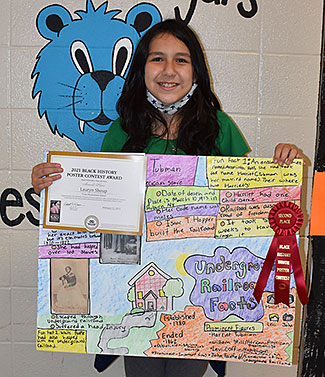 The first- and second-place winners of the Black History Month Poster Contest display their award-winning posters. First-place winner Ma'liah Brown, left, made a poster about Shirley Chisholm, and second-place winner Lauryn Shoup's poster featured Harriet Tubman. Both are students at Crain Elementary School.
When fifth-grader Ma'liah Brown was thinking about who to feature on her poster for the annual Black History Month Poster Contest, she knew she wanted to feature a woman who stood out to her from her studies.
"I chose Shirley Chisholm because she's an amazing woman," she said. "She was the first African American woman in Congress."
Ma'liah, a 10-year-old student at Crain Elementary School, was named this year's first-place winner of the Black History Month Poster Contest. She received a $2,000 University of Houston-Victoria scholarship, a $1,000 Victoria College scholarship, a UHV swag bag and a VC swag bag.
The annual contest is a partnership between UHV, Victoria College and the Victoria Black History Committee Inc., and is open to all fifth-graders in Victoria. Students were asked to design posters around the theme "Black Politicians: Then and Now."
This year, about 50 posters were submitted digitally because of COVID-19. The posters then were judged by representatives from UHV, Victoria College and the Victoria Black History Committee. Prizes and certificates were delivered to the top winners at their respective schools.
"Each year, the poster contest showcases the excellent talent of our local fifth-graders who each showcase creative posters of important historical African American figures," UHV President Bob Glenn said. "Although we were unable to celebrate with our poster contest winners in person, we would like to thank all the students who submitted a poster for the contest."
Ma'liah's poster included several facts about Chisholm, including her nickname, "Fighting Shirley;" and quotes. Ma'liah wrote each fact in bright colors and placed the facts around a large, hand-drawn rendering of Chisholm.
Ma'liah used small pieces of curled black construction paper to recreate Chisholm's hair. It took about two hours for Ma'liah to complete her poster.
She was pleasantly surprised and momentarily speechless when she learned she won first place in the contest.
"If you try your best, you will succeed," she finally said.
Lauryn Shoup, 11, also from Crain Elementary, won second place for her poster featuring Harriet Tubman. The poster was colored using crayons and markers and included facts about Tubman, a list of prominent figures of the Underground Railroad, and a hand-drawn depiction of Tubman fleeing slavery. Lauryn said she chose to feature Tubman because she was a woman who made big changes in history. Lauryn finished the project in one day and stayed up until about midnight to complete it. She received a $1,000 UHV scholarship, a $500 VC scholarship, a UHV swag bag and VC swag bag.
"She had the courage to help others escape through the Underground Railroad," Lauryn said.
Mason Hood, an 11-year-old student at Vickers Elementary School, won third place for his poster about Hiram Revels, the first African American senator. His poster also included facts about Revels and a biography and included a map key to help the viewer read the poster. He received a $500 UHV scholarship, a $250 VC scholarship, a UHV swag bag and a VC swag bag.
Mason first learned about Revels while reading the Social Studies Weekly educational magazine and decided to do more research about Revels for the poster contest. It took Mason a couple of days to complete the project.
"I thought it was cool that he was the first African American senator and that he served as a chaplain in the U.S. Army," Mason said.
Honorable mention selections in the poster contest were:
Anthony Coggins, Vickers Elementary School
Harley Dennis, DeLeon Elementary School
Adyson Garcia, DeLeon
Zayden Montgomery, DeLeon
The University of Houston-Victoria, located in the heart of the Coastal Bend region since 1973 in Victoria, Texas, offers courses leading to more than 80 academic programs in the schools of Arts & Sciences; Business Administration; and Education, Health Professions & Human Development. UHV provides face-to-face classes at its Victoria campus, as well as an instructional site in Katy, Texas, and online classes that students can take from anywhere. UHV supports the American Association of State Colleges and Universities Opportunities for All initiative to increase awareness about state colleges and universities and the important role they have in providing a high-quality and accessible education to an increasingly diverse student population, as well as contributing to regional and state economic development.