Close
UHV student finds volunteer work on Senate rewarding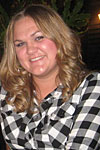 Melanie Castaneda
University of Houston-Victoria student Melanie Castaneda started a second term in May in the university's Student Senate, but it wasn't that long ago that she didn't even know about the organization.
"A friend told me about the Senate while we were working in the lab one day," said Castaneda, who served as the education senator in the spring and now is representing the student body as a senator at large. "I'm all about getting involved and community service, so when I heard the next election was coming up, I ran. I got to meet so many people and do so many neat things; I decided to run again this semester."
She originally planned to be a candidate for vice president, but the position requires a year commitment and Castaneda will graduate in December with a bachelor's degree in education. As a senator at large, she provides an avenue for students to voice their concerns to the university.
"We don't just help the community," she said. "We help everyone in the student population. If they come to us with concerns, we take those up in our Senate meetings. We're the go-between for students and, ultimately, the president of the university."
Castaneda already has worked closely with the first class of freshmen, an experience she has found rewarding.
"During freshman orientation, we act as student ambassadors," she said. "We have sessions with the freshmen where we really get to know them. We tell them our stories of what it's like to be a Jaguar; we even talk to their parents. Some of them are nervous, and many of them are coming from really far away, so we try to make it more comfortable for them."
As a senator, Castaneda also has been busy with community service. She recently volunteered at summer camps at the Texas Zoo in Victoria and helped area first-graders give enrichment treats to the animals.
"It was really cool to get to experience the kids like that," she said. "They created fake sheep covered in cotton and stuffed with meat. Then we got to watch as the tigers tore them apart. They made toys for the monkeys and coyotes, too."
A member of the Texas Outdoor Education Association for three years, Castaneda knows the value of getting children in touch with nature. The TOEA is a group of teachers, camp counselors and scout leaders who meet for workshops and learn fun activities they can use to get their students outside.
Originally, Castaneda wanted to be a lawyer, but a twist of fate led her to teaching when she started working in a day-care facility.
"I ended up getting a job at a day care, and I loved it," she said. "The real moment for me was when I taught a student to tie his shoes. I realized I had just taught him something he would use the rest of his life. He was so excited and so was I, and the next day, I changed my major. Now I want to become certified in early childhood education through sixth grade. I love the second grade, but I also love teaching science and social studies to fourth and fifth grades. This way, I can try everything."
Castaneda lives in Victoria with her husband, Steven, and 4 year-old daughter Julia.
The UHV Outstanding Student is an online feature highlighting the exceptional students who attend the University of Houston-Victoria. To nominate a student, contact UHV Communications Manager Paula Cobler  or call 361-570-4350.
The University of Houston-Victoria, located in the heart of the Coastal Bend region since 1973 in Victoria, Texas, offers courses leading to more than 80 academic programs in the schools of Arts & Sciences; Business Administration; and Education, Health Professions & Human Development. UHV provides face-to-face classes at its Victoria campus, as well as an instructional site in Katy, Texas, and online classes that students can take from anywhere. UHV supports the American Association of State Colleges and Universities Opportunities for All initiative to increase awareness about state colleges and universities and the important role they have in providing a high-quality and accessible education to an increasingly diverse student population, as well as contributing to regional and state economic development.