Close
UHV names three Royal Jaguars during homecoming celebration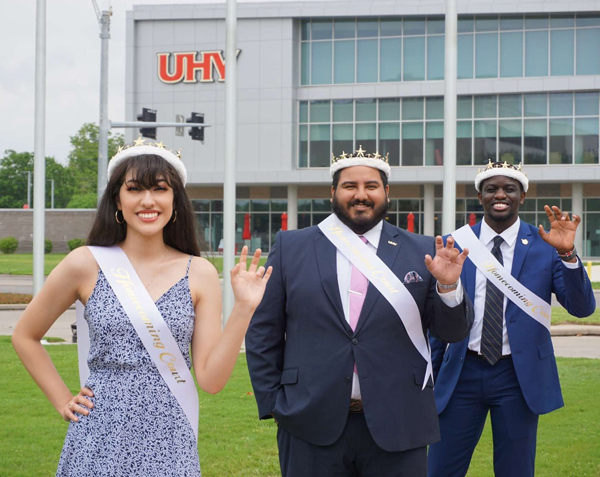 The UHV 2021 Homecoming Royal Jaguars, left to right, Noemi Bustamante, Dominic Flores and Eli Juma pose on campus with their crowns and sashes. The winners were announced Friday evening during a UHV Homecoming virtual celebration event.
The University of Houston-Victoria awarded three students the new title of Royal Jaguars during the Student Government Association Celebration Friday night as part of UHV Homecoming week.
Noemi Bustamante of Houston, Dominic Flores of San Antonio and Eli Juma of Sabinal received crowns delivered to their residence hall rooms during the virtual celebration. The theme for the week was "UHV Jaguars Stay Home(coming)."
The university decided to change the title from Homecoming King and Queen to Royal Jaguars after a discussion with members of the UHV Diversity and Race Task Force. The new title offers a more gender-inclusive option, and many other campuses across the country have made similar changes.
"I just want to thank all of our students who participated in homecoming and the Homecoming Court this year," said Hilary Kofron, UHV Student Life director. "We had eight incredible Homecoming Court members who represented UHV so well during the week. Eli, Noemi and Dominic are exceptional student leaders and I know they are honored to be the first Royal Jaguars at UHV."
For Bustamante, receiving her crown was especially meaningful because her boyfriend, Cesar Gonzalez, who was UHV Homecoming King in 2019, was the one who delivered it and crowned her during the event.
"It just added an extra layer to something that was already so exciting," the senior biology major said. "I was so happy for him when he won in 2019, and now he got to have that same experience and cheer me on this year."
Looking back at her time at UHV, Bustamante is grateful to have so much support from her fellow students as well as faculty and staff members she has worked with on campus. She has worked as a resident assistant in UHV Residence Life, a student assistant in the School of Arts & Sciences, a student director in Career Services and as a teacher assistant for Hashimul Ehsan, a UHV assistant professor of biology.
After she graduates in May, Bustamante plans to apply to pharmacy school programs. Her goal is to earn a doctoral degree and work in a hospital pharmacy or even have her own pharmacy.
"UHV has been my home away from home," she said. "My time at UHV has brought me out of my shell and taught me to be a better person. Now, I'm looking forward to using what I learned here to pursue my goals and be ready for whatever may come in the future."
When Flores and Juma received their crowns, it was a back-to-back celebration, because they are roommates. Flores' win was announced first, and he was pleasantly surprised to receive his crown.
"It was an unexpected honor, and I am so grateful," said Flores, a senior political science major. "I was very quiet in high school, and I've never done something like this before. I've been looking forward to homecoming this year, and it was amazing to be one of the winners."
Not long after Flores received his crown, there was another knock at the door, and Juma was announced as another Royal Jaguar.
"I couldn't stop smiling. It was just pure joy," said Juma, a senior education major. "I've never seen myself as the 'cool kid' or someone who is known by all. And knowing that I get to share this honor with Dominic, one of my best friends, is just the best."
For Flores, the opportunity to celebrate homecoming and receive the award is especially meaningful when looking back on the previous year. UHV's 2020 Homecoming celebration was canceled because of the pandemic.
"Homecoming this year was special because we had so many people working hard to make it great after last year's event was canceled," he said. "I'm grateful to everyone who put so much effort into homecoming. The last year was tough, but we've been able to see UHV grow in new and exciting ways despite those struggles."
The award is a welcome reminder for Juma that he has made UHV his home despite his earlier college plans. When he first came to UHV, Juma only planned to stay a year or two and then transfer to another university to run track. Instead, he chose to stay at UHV after he began to love being part of the campus community.
"If I had left UHV, I don't think I would be as happy as I am today," Juma said. "I've seen so many parts of the university that I consider myself an encyclopedia of UHV from the student perspective. I love how I've been able to connect with people here, and I'm grateful to everyone who has supported me."
Both Juma and Flores are members of the UHV Student Government Association. Flores also works in Jaguar Hall Dining, and Juma works as a student director in UHV Student Life.
Flores hopes to graduate in December, and he plans to stay at UHV to pursue a master's degree. He's considering a career in politics or government or, alternatively, working in Student Affairs. Juma is an education major slated to graduate in December, but instead of becoming a teacher, he is looking into a career in Student Affairs at UHV or a similar institution.
"I don't feel ready to teach yet, but I want to help students in other ways," Juma said. "I want to support them as they pursue their passions, dreams and aspirations. I'm also hoping that I can coach track and field one day."
The University of Houston-Victoria, located in the heart of the Coastal Bend region since 1973 in Victoria, Texas, offers courses leading to more than 80 academic programs in the schools of Arts & Sciences; Business Administration; and Education, Health Professions & Human Development. UHV provides face-to-face classes at its Victoria campus, as well as an instructional site in Katy, Texas, and online classes that students can take from anywhere. UHV supports the American Association of State Colleges and Universities Opportunities for All initiative to increase awareness about state colleges and universities and the important role they have in providing a high-quality and accessible education to an increasingly diverse student population, as well as contributing to regional and state economic development.