Close
Business students examine wholesale company for BBA conference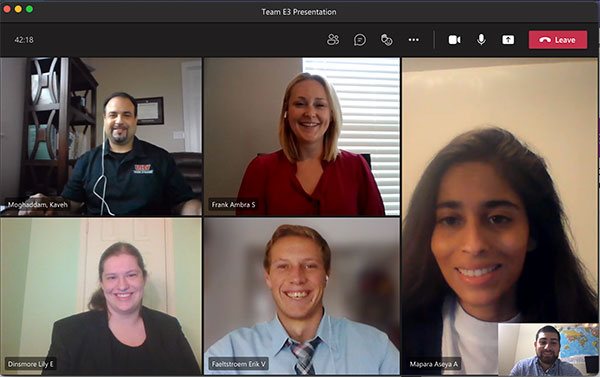 Clockwise from left, Kaveh Moghaddam, a UHV associate professor of management, and UHV School of Business Administration students Ambra Frank, Aseya Rehman, Nicholas Guzman, Erik Faeltstroem and Lily Dinsmore participate in a Microsoft Teams meeting Saturday during the 28th Bachelor of Business Administration Case Conference. The team members won first place for their analysis of Sysco Corporation.
For about 14 weeks, Ambra Frank and a small group of classmates spent hours each week researching and discussing various components of an analysis for the 28th University of Houston-Victoria Bachelor of Business Administration Case Conference. Their hard work paid off Saturday when they won first place in the competition.
"We were so happy when we received good feedback from the judge's panel, but we didn't expect to win," Frank said. "We just wanted to do the best we could."
Frank, of Tomball, Nicholas Guzman of Corpus Christi, Erik Faeltstroem of Sweden, and Aseya Rehman and Lily Dinsmore of Cypress won first place for their analysis of the Sysco Corporation, a wholesale restaurant food supplier.
The UHV School of Business Administration held the conference through Microsoft Teams. Every semester since 2007, students enrolled in "Strategic Management," the capstone course of the BBA program, have attended the conference and competed as teams in the presentation of a company case analysis. This year's conference had 149 students in 31 teams. During the virtual conference, students presented different analyses of a company to a panel of judges made up of UHV faculty, members of the School of Business Administration Dean's Advisory Board, various alumni and community members.
The students work on the presentations for the conference all semester, said Kaveh Moghaddam, an associate professor of management who taught the winning team.
"The conference provides a setting to further motivate and encourage students to work in teams and strive to bring up their best work," he said. "It is also a great opportunity for students to improve their presentation skills and gain critical thinking skills and systematic analysis capability."

In the first step of the presentation, students examine the competitiveness of the firm to determine the threats and opportunities. Next, students evaluate the strengths and weaknesses of the firm, and in the final step, they consider potential strategic directions. The winning team did a great job in all those steps and had an outstanding presentation at the conference, he said.
"It is really enjoyable to see my students performing well at the case competition, and I am very proud of my students," Moghaddam said. "The BBA conference is a good experience that students can remember for a long time and make them proud of their accomplishments at UHV."
For the winning team's presentation, Frank said the group played to each other's strengths during the research of each component of the analysis. For example, Frank, who is majoring in supply chain management, analyzed Sysco's distribution network and expansion by region. The presentation included analyses of the company's political, economic, socio-cultural, technological, environmental and legal factors. The group also looked at internal factors of the company including leadership, corporate strategies, financial analysis and trends, and a strengths and weaknesses analysis.
Since restaurants and schools were affected by COVID-19 and were no longer placing bulk orders through suppliers, the group suggested that Sysco shift its focus to selling products to hospitals.
Although the group members never met in person, they met virtually to practice for the conference many times and felt confident in their presentation. During the question-and-answer portion with the panel, each member was able to answer the questions without a lull, like a natural conversation, she said.
"This project is great because it really teaches us about teamwork and how to work in teams virtually, which is an important thing to learn since everyone has been working virtually for the past year," Frank said. "It feels so rewarding because we completed such a large project, and I was lucky because our group got along so well. We've all learned great skills for the future to use in our professional lives."
Other teams that placed in the BBA Case Conference were:
Second place (tied) – Nancy Book of Fresno, Candace Courville of Ganado, Monica Rinear of Houston, and Aide Maldonado and Olusegun Olasoji of Katy
Second place (tied) – Mayra Cardenas of Cypress; Anisa Veralin of Victoria; Amberlee Munsch of Weimar; and Jennifer Ochoa, Ashley Robinson and Jessica Anderson of Houston
Third place – Elizabeth Estrada of Victoria and Nichole Murray, Alexandra Hawk and Damon Herrera of Katy.
The University of Houston-Victoria, located in the heart of the Coastal Bend region since 1973 in Victoria, Texas, offers courses leading to more than 80 academic programs in the schools of Arts & Sciences; Business Administration; and Education, Health Professions & Human Development. UHV provides face-to-face classes at its Victoria campus, as well as an instructional site in Katy, Texas, and online classes that students can take from anywhere. UHV supports the American Association of State Colleges and Universities Opportunities for All initiative to increase awareness about state colleges and universities and the important role they have in providing a high-quality and accessible education to an increasingly diverse student population, as well as contributing to regional and state economic development.