Close
Twins ready to take first step toward future at UHV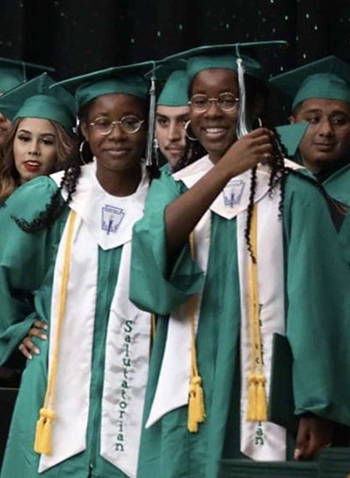 Tamera, left, and Eryka Hosey stand with fellow Bloomington High School graduates during the school's June 11 graduation ceremony. The identical twins graduated as the top two students in their class and will start their higher education this fall at UHV.
Eryka and Tamera Hosey have spent their whole lives working together and supporting each other, even placing as the valedictorian and salutatorian in high school, and they are looking forward to continuing that tradition as freshmen this fall at the University of Houston-Victoria.
The identical twins recently graduated from Bloomington High School and plan to attend UHV to start working toward their career goals. They chose UHV after speaking with UHV Recruitment Manager Oscar Torres and learning about how the campus is growing and offers excellent programs and facilities close to their Victoria home.
"He spoke about the university with so much pride and excitement," Eryka said. "It made an impression on us that this would be a great place to start. We didn't want to go somewhere far away right after high school. We wanted to start out close to home, at least to get our basic classes done, and UHV was the perfect choice for us."
Although the sisters want to start college together, they know that they eventually will need to branch out to different schools based on their career choices. Tamera wants to become an OB-GYN. She first became interested in the career when she took biology her freshman year of high school.
"During biology, I started to learn about the human body, and the female body was fascinating to me," Tamera said. "I loved learning about how much women can do, including bringing life into the world. I want to be a part of that and help women become mothers."
Eryka also wants to pursue a career that involves family by becoming a marital family therapist. Part of her inspiration springs from her own family's experience of growing up without a father when she and Tamera were younger.
"I want to help people deal with and talk about painful topics and issues in their families," Eryka said. "Everyone deals with things that he or she is not comfortable discussing with others. I want to help families find a way to talk about those issues and the pain they cause so families can come together and be healthy."
The sisters hope that UHV will give them a strong start as they move toward their future careers, and Torres is excited they chose to begin their higher education at UHV.
"I have had the pleasure to work with both Eryka and Tamera as they completed their admissions application at UHV," Torres said. "They both received the UHV Presidential Scholarship and have a clear drive to succeed. Additionally, they are not afraid to ask questions, and as a recruiter, we certainly appreciate when students have questions. I expect them to have tremendous success academically here at UHV."
In addition to their academic goals, Eryka and Tamera are looking forward to the opportunity to meet new people at UHV and get involved on campus.
"This is such an exciting time for us – we're officially adults now," Eryka said. "We're looking forward to experiencing new things and exploring future possibilities. There's so much that we can see and do, and we want to make the most of this time."
The University of Houston-Victoria, located in the heart of the Coastal Bend region since 1973 in Victoria, Texas, offers courses leading to more than 80 academic programs in the schools of Arts & Sciences; Business Administration; and Education, Health Professions & Human Development. UHV provides face-to-face classes at its Victoria campus, as well as an instructional site in Katy, Texas, and online classes that students can take from anywhere. UHV supports the American Association of State Colleges and Universities Opportunities for All initiative to increase awareness about state colleges and universities and the important role they have in providing a high-quality and accessible education to an increasingly diverse student population, as well as contributing to regional and state economic development.