Close
UHV students study international business up close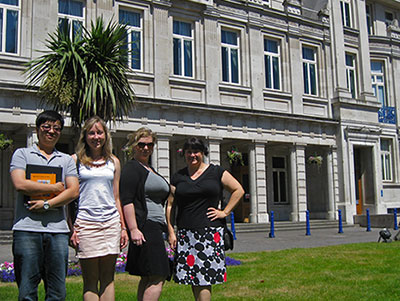 University of Houston-Victoria international business students Liuan Yang, left, Kristen Lindley, Carolyn Sanders and Danielle Stewart stand outside of what was their home for a month this summer at Queen Mary College's Mile End campus in London.
Four University of Houston-Victoria students took four weeks out of their summer for an international business course in an authentic location — London.
Master of Business Administration students Kristen Lindley, Carolyn Sanders, Danielle Stewart and Liuan Yang returned earlier this month after observing business practices around England's capital city. The study program is part of a growing number of international study offerings at UHV, which now has nine courses in London and two in other countries, said Magen Besancon, international student services coordinator in the School of Arts & Sciences. 
Lindley decided to take the course to earn three hours of credit and see how businesses operate in another part of the world.
"The London trip was fantastic," she said. "Even if I didn't get to do all of the stuff I wanted to do in my free time — like travel and visit museums — this would still have been worth my time and money."
Besancon said the students visited executives and sites that deal with all aspects of international business — a Coca-Cola UK marketing executive, an International Accounting Standards Board official, a medical company startup entrepreneur, a businessman who specializes in exporting and outsourcing to the Far East and more.
The quartet also visited the City of London's Economic Development Center.
"They talked about what they are doing to help keep London a strong financial hub for the world," Lindley said.
Sanders said traveling internationally exposes students to far more than they can get in the classroom or from behind a computer terminal.
"It doesn't compare to an online course because you experience all of the history of the place, and you get to go into these companies and explore them and hear about their traditions firsthand," she said. "It's just a completely different experience."
Sanders has worked in the oil industry and knows global experiences will be good for her résumé.
"It's important to get a viewpoint from a different country and see how it works," she said.  "Just being able to say, 'I lived and studied there' is a huge advantage over someone who hasn't been overseas and seen how business is done."
Sanders said the visit to insurance giant Lloyd's of London was her favorite spot.
"It was so impressive with its busy trading floor, and it made me feel there was so much going on there," she said. "It made me just want to get into it because all the action was there."
Stewart said the trip opened up the world to her.
"It felt like they crammed a year's worth of knowledge into the month," she said. "When you compare the costs and benefits, the experience was definitely high on the benefits."
Stewart also enjoyed Lloyds of London, but said the students also got an inside look into the world's most storied tennis location — Wimbledon.
"We toured the grounds and got to meet with the financial officer," she said. "It is very interesting the way they brand themselves."
Yang agreed that the trip was a worthwhile experience.
"The study in London gave me a great look into international business and management," Yang said. "It gave me the opportunity to learn about different kinds of business and customers around the world. I would recommend anyone consider this program."
The trip also helped Lindley see what other opportunities may await in her business career.
"One thing this trip did for me is that it really opened my eyes to all the different types of business that takes place out there," she said. "This trip can help a student learn so many new avenues you could take with a career, not to mention, being in London for a month just broadens your perspective of the UK, Europe and the world. It is such a global city."
Most UHV study abroad international study courses are for undergraduates, but select ones are offered at the graduate level, Besancon said.
The British Studies program runs in cooperation with Midwestern State University in Wichita Falls and is held each summer. Students interested in participating next year can contact Besancon at besanconm@uhv.edu or 361-570-4185. An information session for summer 2011 will be scheduled later this fall, she said.
In addition to British Studies, UHV also offers Spanish-language programs in Cuernavaca, Mexico, and Granada, Spain, that students can begin any time and can attend from two weeks to a full semester.
The University of Houston-Victoria, located in the heart of the Coastal Bend region since 1973 in Victoria, Texas, offers courses leading to more than 80 academic programs in the schools of Arts & Sciences; Business Administration; and Education, Health Professions & Human Development. UHV provides face-to-face classes at its Victoria campus, as well as an instructional site in Katy, Texas, and online classes that students can take from anywhere. UHV supports the American Association of State Colleges and Universities Opportunities for All initiative to increase awareness about state colleges and universities and the important role they have in providing a high-quality and accessible education to an increasingly diverse student population, as well as contributing to regional and state economic development.