Close
Royal Jaguars crowned during UHV homecoming festivities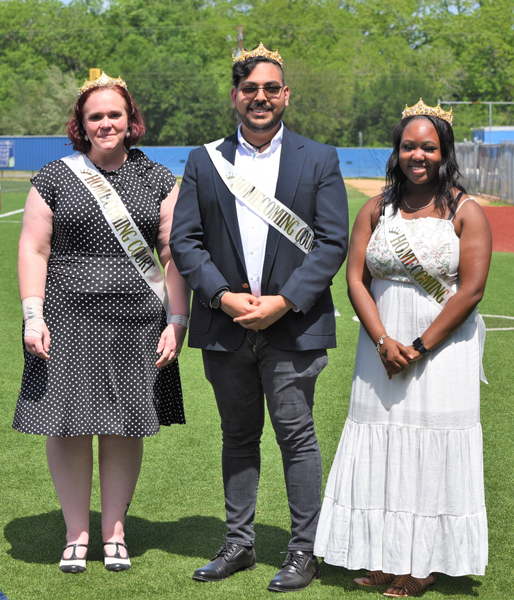 The UHV 2022 Homecoming Royal Jaguars, left to right, Wendy Hughes, Kevin Madrid and Jaira Jenkins pose with their crowns and sashes Saturday at Riverside Stadium. The winners were announced Saturday between UHV Jaguar baseball games and at the end of the UHV Homecoming week.
For Wendy Hughes, running for homecoming court in college was not something she imagined herself ever doing. But after a spontaneous and last-minute decision to cast her name in the running to be a University of Houston-Victoria Royal Jaguar, she found herself wearing a crown.
"When they reopened the call for homecoming court candidates, I thought if I could show other nontraditional students that you can still have the same experience as younger students, it could maybe inspire them to do the same in the future," Hughes said.
Hughes, a Victoria resident, along with Kevin Madrid of Odessa and Jaira Jenkins of San Antonio were named Royal Jaguars Saturday as part of UHV Homecoming Week. The three students were crowned in between the Jaguars baseball doubleheader against Texas A&M-Texarkana. This year's homecoming theme was "The Happiest Homecoming at UHV."
This is the second year the Royal Jaguars have been named during the university's homecoming celebration. In 2021, the university decided to change the title from Homecoming King and Queen to Royal Jaguars to offer a more gender-inclusive option for students.
The Happiest Homecoming at UHV is also the first in-person homecoming celebration since 2019. The 2020 homecoming celebration was canceled, and the 2021 homecoming celebration took place virtually. This year's celebration was well-attended by students, and faculty and staff participation in festivities was wonderful to see, said Hilary Kofron, UHV Student Life director.
"The theme couldn't be more appropriate as the magical feeling just brought so much happiness and joy to the week, and it was awesome to see the whole university embracing the celebration and coming together as Jaguars," she said. "I appreciate all the students who applied to be on the homecoming court and wanted to be involved in the festivities. Wendy, Kevin and Jaira are all great students and are well-deserving of the honor of being Royal Jaguars."
Being named a Royal Jaguar was especially meaningful to Hughes, who has four children and was able to share that moment with her family. As an older student with a family, Hughes felt like there was a possibility that she wouldn't be able to have a traditional university experience that most younger students have, especially during a pandemic with online learning.
While her UHV journey has had its challenges, she has had a great student experience. She will graduate in May 2023 with a bachelor's degree in health studies, and she plans to pursue a master's degree in public health and earn a doctoral degree as well. Her ultimate goal is to teach at UHV and help expand the university's health studies program.
"This whole experience has been a blessing, especially after going through the pandemic and feeling lost through that time," she said. "My family and I were all learning together when all the schools were doing virtual learning, so it almost feels like we are all on the same journey with education. I've met so many amazing people, and I am glad I can show my children and other students that no matter what, they can live out loud and make the best of life."
As a formerly shy person, Madrid is proud of how far he has come since becoming a student at UHV. For him, the experience of running for Royal Jaguar to being crowned represents his growth as a person.
"Being a student has been a lot of hard work with academics and learning how to take care of myself," he said. "I used to keep to myself, but I've slowly opened up during my time here. It's been an overall growing up experience."
He thought running for Royal Jaguar would be a fun opportunity because it was his first time running for homecoming. In the past, he would support his friends who wanted to go out for homecoming court, and he thought he would give it a shot, too. Madrid had fun campaigning while enjoying the homecoming festivities, including during the block party at the beginning of the week when he sang "Remember Me," in Spanish from the movie "Coco."
Madrid will graduate in May with a Bachelor of Science in digital gaming and simulation and plans to move to San Antonio and look into jobs in game design, graphic design and marketing. He thanks all his coworkers at the Student Success Center and members of the Jaguar Esports student organization for all their support. He also thanks his girlfriend Elizabeth Pilotte, who graduated from UHV last year and has been his "rock" and so supportive, and his friend Randall Jasek.
"I was happy to see that I was supported by so many of my fellow peers," Madrid said. "This was a fun opportunity to see how far I could get, and I've seen how far I've grown, too."
Leading up to the Royal Jaguar announcement, Jenkins was anxious but excited. When she heard her name called as one of the Royal Jaguars, she was surprised and happy. For Jenkins, being a UHV student has been a meaningful experience. She enjoys being involved on campus and is the president of the UHV Multicultural Advisory Council. To her, being a UHV Jaguar is about being a community and evolving together. Now, she is officially a part of the homecoming celebration.
"It's such a big honor and achievement to be named a Royal Jaguar by my peers," Jenkins said. "This really makes me feel at home here and almost feels like a reward. I am so proud and honored to represent UHV."
Jenkins is a junior studying communication design. With one more year to go at UHV, Jenkins plans to pursue internship opportunities and continue to build her design portfolio. She is interested in careers in marketing or advertising. While she plans to be more focused on internships and preparing for life after graduation, Jenkins would like to still be involved in student life activities when she is able.
Jenkins hopes her accomplishment as a Royal Jaguar inspires other students who are afraid and anxious to pursue goals such as going for homecoming court. Having the right positive mindset and confidence can give you the strength to do things you never thought you would do, she said.
"Just go for it because you never know what the outcome will be," Jenkins said. "I didn't starting out, and look where I'm at now."
The University of Houston-Victoria, located in the heart of the Coastal Bend region since 1973 in Victoria, Texas, offers courses leading to more than 80 academic programs in the schools of Arts & Sciences; Business Administration; and Education, Health Professions & Human Development. UHV provides face-to-face classes at its Victoria campus, as well as an instructional site in Katy, Texas, and online classes that students can take from anywhere. UHV supports the American Association of State Colleges and Universities Opportunities for All initiative to increase awareness about state colleges and universities and the important role they have in providing a high-quality and accessible education to an increasingly diverse student population, as well as contributing to regional and state economic development.