Close
New school of education department chairwoman eyes classrooms of future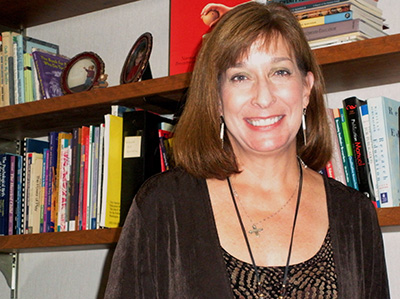 Jill Fox is the new chairwoman of the Department of Teacher Leadership and New Literacies in the University of Houston-Victoria School of Education & Human Development.
Though she has no crystal ball, Jill Fox wants the University of Houston-Victoria to look into the future to train educators for Texas classrooms.
The new department head in UHV's School of Education & Human Development has a vision for training the next generation of public school teachers and students.
"Classrooms are changing. Teaching and learning is not the same as it was 50 years ago, and we've got to prepare teachers for classrooms as they are now but, just as importantly, for classrooms as they will be," said Fox, who chairs the new Department of Teacher Leadership and New Literacies.
Today, even teachers in small school districts are using iPods, interactive white boards and document cameras in the classroom.
"The last 10 years has seen a huge shift in the way we teach, so what will the next 10 years bring?" Fox asked. "These new tools are a marker for the change that is going to occur, and it's just the beginning."
UHV recently divided its School of Education & Human Development into two departments: the one Fox leads and the Department of Educational Leadership & Counseling, which encompasses certification and continuing education for teachers and administrators. It is led by Interim Chairwoman Hsin-Hui Lin.
Fox said the division into two departments is a more traditional structure that separates initial educator preparation from programs that require a graduate degree.
But Fox's focus is on the everyday classroom and how teachers can improve their methods and efficiency.  Fox said one way she sees technology helping classroom teachers will be in the speed of student assessment.
"I see assessment as becoming a bigger force behind the decisions that teachers make in presenting curriculum," Fox said. "In the past, we've had to wait for the Texas Assessment of Knowledge and Skills test or other assessments to be given and processed, and then we go back and make changes to the curriculum.
"But I think technology will allow us to assess immediately in the classroom and then know when we need to reteach, review or start over and when we can move on to the next lesson."
Fox said technological innovation also could help blunt criticism of "teaching to the test."
"The more information we have, the better we can design a learning program for the students," she said.
Lawrence Rossow, dean of the UHV School of Education & Human Development, said Fox's experience and enthusiasm are the attributes needed to help train the educators of tomorrow.
"Dr. Fox has worked in many levels of classroom instruction, and she stays on top of the changes that are occurring rapidly in the education field," he said.  "She will be a good addition to our program as we seek to address tomorrow's classroom challenges."
Fox earned her stripes teaching kindergarten and first grade in Dallas inner-city schools and the Austin Independent School District. She also has 16 years of college classroom experience. Fox comes to UHV with a doctoral degree in early childhood education and said one of her top priorities is to work with local educators.
In her first week at UHV, the educator visited five Victoria schools. She wants to help UHV partner with the Victoria school district to gear up for instructional and technology changes.
"I'm very impressed with what I've seen in Victoria schools and the work that our students are doing there," Fox said. "Partnership is a huge factor in terms of the quality of teacher preparation. I really want to form close relationships with the principals and involve local classroom teachers."
Fox and her husband, Ray, a self-employed insurance and investments adviser, have two sons, one a recent college graduate and another who is a college senior.
The University of Houston-Victoria, located in the heart of the Coastal Bend region since 1973 in Victoria, Texas, offers courses leading to more than 80 academic programs in the schools of Arts & Sciences; Business Administration; and Education, Health Professions & Human Development. UHV provides face-to-face classes at its Victoria campus, as well as an instructional site in Katy, Texas, and online classes that students can take from anywhere. UHV supports the American Association of State Colleges and Universities Opportunities for All initiative to increase awareness about state colleges and universities and the important role they have in providing a high-quality and accessible education to an increasingly diverse student population, as well as contributing to regional and state economic development.