Close
Coastal Bend native is next speaker in UHV/ABR reading series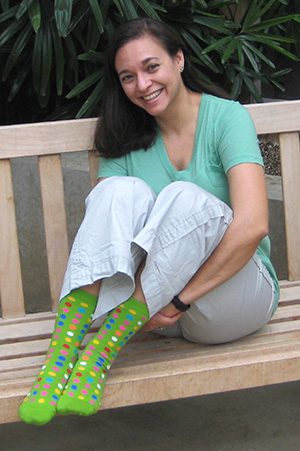 "Confetti Girl" author Diana López, a new University of Houston-Victoria instructor, will be the featured speaker Sept. 23 as part of the UHV/American Book Review Fall Reading Series.
"Confetti Girl" author and new University of Houston-Victoria instructor Diana López will have a homecoming of sorts when she is the featured speaker at two events on Sept. 23 as part of the UHV/American Book Review Fall Reading Series.
 "I'm a South Texas girl," López said. "I was born and raised in Corpus Christi, so moving to Victoria feels like returning home. The only thing missing are the seagulls."
Her first talk will begin at noon in the Alcorn Auditorium of UHV University West, 3007 N. Ben Wilson St. A special Mothers and Daughters' Reception will take place from 6:30 to 8 p.m. that day in the courtyard of Trinity Episcopal Church, 1501 N. Glass St. In case of inclement weather, the reception will be held inside the church's Parish Hall. Both events are free and open to the public. Books will be available to purchase and have López sign.
López struck a chord with young readers with her 2009 book "Confetti Girl," which turned out to be a hit in the young adult genre. "Confetti Girl" is about a young girl, Lina, and her relationship with her father and friends after losing her mother. López mixes in colorful cascarones, eggs filled with confetti; Spanish dichos, or sayings; and Lina's love of wacky socks in way that draws in more readers. Those attending the readings are even invited to wear their own crazy socks. Photos of the most interesting socks at the evening reception may be posted on López's website at www.dianalopezbooks.com/.
"I received a lot of feedback from young readers, mostly girls," López said. "Some find the story romantic, others relate to the theme of loss, while others focus on the friendship issues."
She added that writing in the young adult genre requires a different set of references.
"Capturing an authentic young voice is difficult. You have to forget the insights that being an adult gives you and remember those you had as a young person with limited experience from which to draw conclusions," López said. "At the same time, kids are so smart. Writing for young audiences does not mean dumbing down; it means capturing their special brand of intelligence. When a young girl sends me a note that says, 'I could really relate to Lina,' then I know I have succeeded in capturing a true voice."
Since the fall semester began at UHV, López has spent time in Victoria as a new instructor of English and composition. Her ABR talk was scheduled before she was hired. But López jumped at the chance to be a part of UHV's growth and the school's initiatives to reach out to young readers who share her background.
"Like our new students, I have a pioneer spirit. The opportunity to teach in a place that is creating its own identity was too tempting to resist," said López, who gave up a tenured position at St. Philip's College in San Antonio to join UHV.
"I am very excited about UHV's Centro Victoria and its mission to promote Mexican-American literature in the schools, which I believe translates into a mission to validate the experience of so many who have not seen their lives reflected in literature," she said.
Centro Victoria is a literary center with a goal of developing lesson plans for public school classrooms using writings by Mexican-American authors as a way to engage students at schools with changing demographics.
López said even she did not read Hispanic authors until she had completed a bachelor's degree in English.
"The first Mexican-American author's book I read was 'Bless Me, Ultima,' by Rudolfo Anaya," she said. "I don't want the young people in my community to wait so long before discovering that they have print-worthy stories, too."
 Jeffrey Di Leo, dean of the UHV School of Arts & Sciences, said the addition of López to the faculty fits in with the school's initiatives to recognize changing demographics across the state.
"We are excited about the quality instruction and the recognition that Ms. López brings to UHV's School of Arts & Sciences," Di Leo said. "Her ABR talk will be a great opportunity for the community to observe her talent and see why we jumped at the chance to hire her as a part of our talented faculty."
López also has submitted her final draft to Little, Brown and Co. for her next book, tentatively titled "Breath Sisters," about a young girl who, in order to be popular, must betray her best friend and play a dangerous choking game.
"One goal for the book is to demonstrate the dangers, but that's also the book's difficulty," López said. "How do I write a story that investigates the appeal of the choking game without glamorizing it and the risks without preaching about it?"
 López said after her second young adult book is published, she plans to switch gears and return to adult writing. Her first book was the 2002 critically acclaimed "Sofia's Saints."
"I hope I can have a reputation as both an adult and young adult writer," she said. "It isn't about the category for me; it's about the story. The story and the narrator dictate the genre."
López is featured in "Hecho en Tejas," an anthology of Texas-Mexican authors, and has been published in several literary journals, as well as featured on National Public Radio's "Latino USA." She won the 2004 Alfredo Cisneros Del Moral Award, a foundation for promising authors set up by the grand dame of Latina letters, Sandra Cisneros.
Other writers scheduled for the Fall Reading Series are:
Amelia Gray, Oct. 21 - Gray's writing has appeared in American Short Fiction, McSweeney's Internet Tendency, DIAGRAM and Caketrain, among others. Of her first book, "AM/PM," Publishers Weekly said, "At moments screwy, prickly and pleasantly surprising, Gray's short shorts deliver youthful snapshots about being nuts in love. … A delectable debut." Her book, "Museum of the Weird," is coming out in September through Fiction Collective Two, an alternative press with executive offices based at UHV.
Ann Weisgarber, Nov. 4 - Weisgarber has been fascinated by the gritty spirit of pioneer homesteaders ever since her first childhood trip to the American West. She earned a master's degree in sociology at the UH and taught high school and then sociology at a junior college. Inspired by a cookstove in a South Dakota sod dugout and a photograph of an unnamed woman, she spent seven years writing "The Personal History of Rachel DuPree." Weisgarber splits her time between Sugar Land and Galveston. She is working on her next novel, a story about the 1900 Galveston hurricane.
E. Ethelbert Miller, Dec. 2 - Miller, a literary activist, is the board chairman of the Institute for Policy Studies. He is a board member of The Writer's Center and is editor of Poet Lore magazine. Since 1974, he has been the director of the African American Resource Center at Howard University in Washington, D.C. His novel, "In Search of Color Everywhere," was awarded the 1994 PEN Oakland Josephine Miles Award and was a Book of the Month Club selection. Mr. Miller received the 1995 O.B. Hardison Jr. Poetry Prize. In 2004, Miller received a prestigious Fulbright award to visit Israel.
ABR is a nonprofit, internationally distributed literary journal that is published six times a year. It began in 1977, moved to UHV in 2007 and has a circulation of about 8,000. The journal specializes in reviews of works published by small presses.
For more information about the UHV/ABR Reading Series, call ABR Managing Editor Charles Alcorn at 361-570-4100 or go to www.americanbookreview.org.
The University of Houston-Victoria, located in the heart of the Coastal Bend region since 1973 in Victoria, Texas, offers courses leading to more than 80 academic programs in the schools of Arts & Sciences; Business Administration; and Education, Health Professions & Human Development. UHV provides face-to-face classes at its Victoria campus, as well as an instructional site in Katy, Texas, and online classes that students can take from anywhere. UHV supports the American Association of State Colleges and Universities Opportunities for All initiative to increase awareness about state colleges and universities and the important role they have in providing a high-quality and accessible education to an increasingly diverse student population, as well as contributing to regional and state economic development.