Close
UHV pair co-authors closer account of 20th century women's history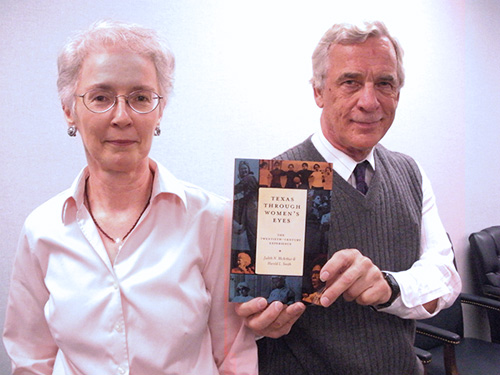 A new book penned by Judith McArthur, a University of Houston-Victoria adjunct faculty member, and Harold Smith, a history professor at the university, takes a distinct, personal look at women's history in the Lone Star State.
Two local historians have produced a new book that provides the first full-scale study of the transformation of Texas women's lives during the last century.
"Texas Through Women's Eyes: The Twentieth-Century Experience," by Judith McArthur, a UHV adjunct faculty member, and Harold Smith, a UHV professor of history, examines the obstacles that limited Texas women's lives during the 20th century. The book also demonstrates how women have been actively engaged in resisting barriers in order to increase opportunities for women in the Lone Star State.
"Instead of focusing on the famous individuals, we have attempted to show how ordinary women – rural, working-class and women of color – lived during the course of the century, and how they brought about change in order to make women's lives better," Smith said.
McArthur said that the strategies used by women were often so subtle that they have been overlooked in most general works about Texas history.
"Progressive Era women, for example, shrewdly used ideologies intended to restrict them to the home to justify their involvement in the public sphere, including politics," she said. "Anyone can see how far women have come in 100 years. Women couldn't even vote a century ago. But we're trying to advance the story and write how those changes came about."
Although the book examines the effect on women's lives of familiar events, like the Great Depression and World War II, it also analyzes the period since the 1960s and topics such as the fight for the Texas Equal Legal Rights Amendment and the implementation of Title IX requiring equal opportunities in athletics for females.
Smith said that one of the book's special features is that it provides first-person accounts by Texas women describing their lives as they campaigned for the vote, sought improved job opportunities and resisted discrimination in various forms.
 "These provide a personal sense of history that's difficult to convey in an analytical text," Smith said.
The book includes brief personal contributions by three women with Victoria connections, including two former UHV students and a former Victoria resident. Jackie Weger recalls the excitement of participating in the 1977 Houston Women's Conference. Jennifer Chau reflects on the difficulties of being a Vietnamese American growing up in an Anglo society, and Sandra Cason, granddaughter of a former Victoria County sheriff, shares her recollections of helping organize the movement to integrate Austin theaters and restaurants as a college student.
Tom Williams, chair of the humanities division in the UHV School of Arts & Sciences, had high praise for his colleagues.
"The new book by Dr. McArthur and Dr. Smith demonstrates two scholars utterly engaged and enthused with their subject," he said. "They continue to examine the role of women in the political, cultural, social and economic development of Texas. To students and peers alike, they are a valued resource, and UHV continues to benefit from their ongoing research and scholarship."
Smith was a Visiting Fellow at the University of Oxford in 1994. The pair's book about suffragist Minnie Fisher Cunningham won the 2003 Liz Carpenter award and the T.R. Fehrenbach prize for the best book on Texas history published in 2003.
"Texas Through Women's Eyes" is available in hardback and paperback editions. The website for the new book is www.utexas.edu/utpress/books/mcatex.html.
The University of Houston-Victoria, located in the heart of the Coastal Bend region since 1973 in Victoria, Texas, offers courses leading to more than 80 academic programs in the schools of Arts & Sciences; Business Administration; and Education, Health Professions & Human Development. UHV provides face-to-face classes at its Victoria campus, as well as an instructional site in Katy, Texas, and online classes that students can take from anywhere. UHV supports the American Association of State Colleges and Universities Opportunities for All initiative to increase awareness about state colleges and universities and the important role they have in providing a high-quality and accessible education to an increasingly diverse student population, as well as contributing to regional and state economic development.