Close
Student athlete dedicates self to giving back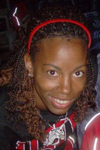 Bre'Neka O'Bryant
When Bre'Neka O'Bryant played basketball in the seventh grade, she earned the nickname that has stuck with her ever since.
Known in most circles as "Shorty" because she was one of the smallest on the team, there is nothing short about O'Bryant's ambition. Today, as an outfielder for the University of Houston-Victoria Jaguars softball team, the 21-year-old also juggles a full class load, is a member of the UHV Student Senate and mentors children once a week.
"I just try to make time for everything," she said about her hectic schedule. "I go to class, then meetings. You have to be organized."
Originally from Huntsville, O'Bryant transferred to UHV in August of 2009 after attending Blinn College in Brenham. The transition was an easy one, and the student athlete immediately felt like part of the team.
"Even when I went to visit, everyone was really friendly," she said. "They helped me with my class schedule and made sure I got to the right professors' classrooms. They welcomed me with open arms."
An only child, O'Bryant has always been athletic. In junior high, she ran track and played basketball, and she played basketball and softball in high school. Although her main focus is softball these days, she still manages to shoot some hoops on the weekends.
"I love to dive and catch in the outfield. I love everything about the game, the fast pace of it," she said, adding that she started playing softball at age 7. "I would love to coach basketball and softball, maybe at the junior high level, and then work my way up one day to the collegiate level."
Working with children goes beyond sports, however. Majoring in psychology, O'Bryant hopes to one day get her teaching certificate and make a career out of molding young minds. Set to graduate in May of 2012, her plans after finishing school include moving back to her hometown and working for the school district there.
"Working with kids, social work, that's my passion. I want to work with them and their families," she said, adding that she mentors at Hopkins Academy in Victoria every Tuesday. "When you help them read a book or help them understand a word, when you can just help them in general and watch their face light up, that's why I want to do it."
O'Bryant also added that she has a passion for giving back to the community, which is why she wanted to get involved in the UHV student government. She was elected speaker of the Student Senate.
"My job is when we have meetings to keepeveryone on task and to come up with new ideas," she said. "I also serve on the Student Senate Community Service Committee. I want to be involved in my community."
The UHV Outstanding Student is an online feature highlighting the exceptional students who attend the University of Houston-Victoria. To nominate a student, contact UHV Communications Manager Paula Cobler or call 361-570-4350.
The University of Houston-Victoria, located in the heart of the Coastal Bend region since 1973 in Victoria, Texas, offers courses leading to more than 80 academic programs in the schools of Arts & Sciences; Business Administration; and Education, Health Professions & Human Development. UHV provides face-to-face classes at its Victoria campus, as well as an instructional site in Katy, Texas, and online classes that students can take from anywhere. UHV supports the American Association of State Colleges and Universities Opportunities for All initiative to increase awareness about state colleges and universities and the important role they have in providing a high-quality and accessible education to an increasingly diverse student population, as well as contributing to regional and state economic development.