Close
ABR author to present reading on civil rights memories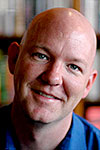 Jake Adam York
Jake Adam York doesn't refer to himself as a historian, although his poetry often centers on incidents that occurred during the civil rights movement.
Because decades have passed since many of those confrontations, the memories of what happened have faded.
"A lot of my work is focused on civil rights memory, not so much history, but the way contemporary communities remember, or more often forget, what happened in their location during the years of the civil rights movement," York said.
York will share some of those poems during a Nov. 29 visit to the University of Houston-Victoria. He is the final author in the UHV/American Book Review Fall Reading Series.
York will read from "Persons Unknown," his latest book of poems, and from "Abide," his manuscript in progress, at noon in the Alcorn Auditorium of UHV University West, 3007 N. Ben Wilson St. "Abide" contains a series of poems about the 1955 murder of John Earl Reese near Longview. The public is invited to attend the free event, and light refreshments will be served.
York is an associate professor of English and director of creative writing at the University of Colorado Denver, where he co-edits Copper Nickel, a journal of art and literature.
He is the author of three books of poems: "Murder Ballads," winner of the 2005 Elixir Press Prize in Poetry; "A Murmuration of Starlings," winner of the 2009 Colorado Book Award in Poetry; and "Persons Unknown." His poems have appeared in Anti-, Blackbird, The Cincinnati Review, DIAGRAM, Diode, Greensboro Review, New South, Northwest Review, Shenandoah, The Southern Review, Southern Spaces, Third Coast and other journals.
York's poems are characterized by strong narrative voices that often have a purpose of honoring the dead and revealing the crimes of the accused in gruesome detail. "Persons Unknown" explores the concept of hardship and internal struggle.
"The poems are mostly set in Mississippi and Alabama, and York possesses the unique gift of being able to go back in time to recreate conversations, moods, how crimes came about, and the moments before these characters became murderers," wrote Danielle Sellers in the Southern Literary Review.
Unlike York's first two books, "Persons Unknown" offers several self-portrait poems.
"I am more visible in those poems than some of the earlier works," he said. "They aren't autobiographical in the sense that you learn about my childhood, but you see what I've been doing the past 10 years: going to communities across the South to recover the locales of civil rights incidents."
York draws on photographs, articles, legal documents and other cultural artifacts to weave history and memory into a lyrical tribute for victims of the struggle for civil rights. He uses legal documents to look at the language and the way people thought in that time period.
"A poem could be built from that by using a set of quotations, adopting a word or phrase, or adopting the grammar or syntax of the document," he said. "The poem is saying something new, but it has this tether to the past."
York also looks up newspaper articles from the time period he is examining. In small-town newspapers, editorials reflect the opinions of that community, he said.
"Sometimes by looking at a newspaper, you can be transported into another way of thinking," he said. "A number of my poems play with the disconnect between one version of reality and another. They lean against each other as if they were two voices in the same song."
Jeffrey Di Leo, ABR editor and publisher, and dean of the UHV School of Arts & Sciences, said York's poetry should be of interest to those who lived through the civil rights movement and for younger generations that relied on stories about it from their elders and books.
"Through his research, tenacity and creativity, Dr. York has carved his own unique style in literature dealing with the civil rights movement," he said. "We are honored that he is taking time out of his busy schedule to come to Victoria to discuss his writing."
Beyond poetry, York also has written several essays involving food or music, including a piece on Alabama barbecue.
York was raised in and around Gadsden, Ala., the son of a steelworker and a history teacher. In 1994, he earned a bachelor's degree in English from Auburn University and continued on to Cornell University, where he earned a master's degrees in English and creative writing and a doctorate in English with emphases in American poetry, history of poetry and creative writing.
He was a 2011-2012 Visiting Faculty Fellow at Emory University's James Weldon Johnson Institute for the Study of Race and Difference, where he continued working on a cultural criticism dealing with how fine artists working after 1980 have looked back on the civil rights movement.
"There's an idea in civil rights history that some time in the early 1980s, the history of civil rights went through a change, going from the generation of Martin Luther King Jr., Malcom X to the next generation, a generation of memory," he said. "For the second and third generation, everything they do is through a historical relationship with the first generation."
Authors who are part of the UHV/ABR Reading Series attend roundtable discussions with university faculty and students, make classroom visits to area schools, give lectures open to the community and go to receptions hosted by Friends of ABR patrons while they are in Victoria.
ABR is a nonprofit, internationally distributed literary journal that is published six times a year. It began in 1977, moved to UHV in 2007 and has a circulation of about 8,000. The journal specializes in reviews of works published by small presses.
While this concludes the Fall Reading Series, the authors of the Spring Reading Series have been announced and can be found at news.uhv.edu/release.aspx?id=1486. The first author will be Naomi Shihab Nye on Jan. 31.
For more information about the UHV/ABR Reading Series, call ABR Managing Editor Jeffrey Sartain at 361-570-4254 or go to www.americanbookreview.org.
The University of Houston-Victoria, located in the heart of the Coastal Bend region since 1973 in Victoria, Texas, offers courses leading to more than 80 academic programs in the schools of Arts & Sciences; Business Administration; and Education, Health Professions & Human Development. UHV provides face-to-face classes at its Victoria campus, as well as an instructional site in Katy, Texas, and online classes that students can take from anywhere. UHV supports the American Association of State Colleges and Universities Opportunities for All initiative to increase awareness about state colleges and universities and the important role they have in providing a high-quality and accessible education to an increasingly diverse student population, as well as contributing to regional and state economic development.